Archives

AND MORE...


The Conning Of A Nation
_____________________


Incoherent & Expensive
_____________________


Benghazi: A National Disgrace
_____________________


Where Are The American People?!
_____________________


Investigating The Investigators
_____________________
May 11, 2013
'Unacceptable'
A short editorial in Saturday's New York Post (see below) offered a quick way to clear up the many contradictions and misinformation surrounding the Benghazi debacle: "Put all those involved under oath before Congress – including the former secretary of state and the former director of the CIA – and ask them all the same questions."
Good idea, although we would add one more thing: Limit the hearings to witness testimonies, followed by Q & A, i.e., cut out the editorializing, pontificating, grandstanding, obfuscating and politicizing by members of Congress, which no one (of sane mind) wants to hear. Members of Congress must ask succinct questions, and witnesses must answer.
Washington, DC is all about "process," but the real world is about results. And since the Commander-in-Chief and President of the United States bears ultimate responsibility, the American people should demand from him an answer to one very simple question:
How is it the mighty United of States of America cannot get its act together within 7-8 hours, in order to disburse an Islamic mob, and rescue American citizens from a diplomatic compound, in a known hot spot of the world?
Excuses are UNACCEPTABLE, Mr. President, so figure it out and get back to us with a real simple answer.
New York Post | May 11, 2013
The Benghazi Carney-val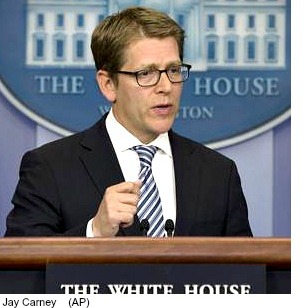 Yesterday the worst job in Washington had to belong to Jay Carney.
In a televised briefing, the White House press secretary found himself besieged by reporters asking about Benghazi.
He told some whoppers. The edits made to the now-infamous talking points were a "matter of non-substantive factual correction." "All this is a distraction from the key issues." There's no "hidden mystery" behind the changes.
Here's the real problem: Carney's challenge here is not simply to defend the White House line. It's to give answers that contradict neither the testimony before Congress this week by three former State Department officials nor the many statements put out by the president and his team since those attacks.
Carney's problem is that it can't be done.
This week's testimony has moved us far past the time when it might all be cleared up by a press conference. The White House says the CIA is responsible for any misinformation and that the changes weren't done by the White House but by State and other agencies.
Only one way to clear it up: Put all those involved under oath before Congress — including the former secretary of state and the former director of the CIA — and ask them all the same questions.
Original editorial here.
We welcome your comments, but please comply with our
Comment Rules.
You must be registered and logged in to leave a comment. Comments will display your Username and location.
Log In »
Notable Quotables

"Mr. Netanyahu is one of the most media-savvy politicians on the planet. On Friday he appeared live via video link on 'Real Time with Bill Maher,' taking the host's alternately sardonic and serious line of questioning with gazelle-like alacrity."

~  Anthony Grant, jourrnalist who has written for many major newspapers and worked in television at Paris and Tel Aviv, interviewing former PM Benjamin Netanyahu on Monday, at the outset of Mr. Netanyahu's new book (more here).