Archives

AND MORE...


US Foreign Bungling Policy
_____________________


Encyclopedic Ignorance, Part Deux
_____________________


Don't Know Much About Much
_____________________


Fans Of The Five Percent
_____________________
October 23, 2012
Previews of More To Come
For those who want a sense of what's percolating in Egypt right now, see the two news items below.
For those who want a sense of the Arab worldview in general, see the picture below that shows Egyptian President Morsi waving to crowds in Cairo on the "national holiday that marks the 1973 war with Israel."
Except that Egypt actually lost the 1973 war (aka the Yom Kippur War), i.e., the 'surprise' war Egypt together with a number of other Arab countries initiated against Israel on the holiest day of the Jewish calendar. Israel was initially caught off guard and suffered high casualties in the first days of the war, although it eventually regained its footing and won the war.
But facts have little to do with reality in the Arab Middle East. It's all a matter of perception, and as long as they're still around to peddle stories, then in their eyes, they "won!" [Egypt's, indeed most of the Arab world's disregard for their own casualties is not new. Egypt celebrates this day annually with much fanfare and dancing in the streets; whereas Israel views it as a day of mourning for Israeli soldiers lost.]
Just something for US leaders, policymakers and others to keep in mind...
Americans have difficulty understanding that it's not necessarily what they do (or their perceptions thereof) that count, but rather the enemy's perceptions. For example, Obama and his supporters bristled at the very mention of Obama's so-called "Apology Tour" during last night's presidential debate. Obama shot back, "every fact-checker and every reporter who's looked at [this]...has said this is not true."
But what Obama et al fail to understand is it's not a matter of 'fact'; it's a matter of perception. And the only perception that counts is the outside world's, not ours. Unlike in America, warm & fuzzy sentiments or terms like outreach, political correctness, multiculturalism, etc. are NOT viewed favorably in the Arab Middle East, but rather as signs of weakness.
Just previews of more to come…
Times of Israel | October 22, 2012
Muslim Brotherhood Official Resigns In Protest Over Morsi Letter To Peres
Ahmad Hamrawi urges president to quit, calls the letter of credence 'national and religious treason'
By Elhanan Miller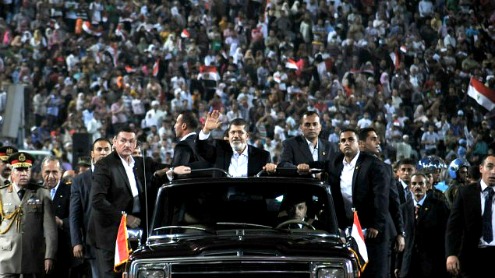 Egyptian President Mohammed Morsi waves to the crowd prior to a speech on the national holiday that marks the 1973 war with Israel in Cairo, October 6.
(photo credit: AP/Egyptian presidency)
An Egyptian Muslim Brotherhood official resigned in protest against a cordial letter sent by Egypt's President Mohammed Morsi to his Israeli counterpart, and urged Morsi to resign for his "treason" in sending it.
Ahmad Hamrawi, former secretary general of the lawyers' association in Alexandria and a founder of Morsi's Freedom and Justice party, left the Muslim Brotherhood following publication of the letter of credence sent by Morsi to his Israeli counterpart Shimon Peres on the occasion of the arrival of Egypt's new ambassador to Israel, Atef Salem, on October 17.
"What Morsi said in his letter to the Zionist entity... is national and religious treason to millions of Egyptians," wrote Hamrawi in a press statement Saturday, ending his 28-year membership in the Muslim Brotherhood.
Hamrawi called on Morsi to resign and on the leadership of the Muslim Brotherhood to denounce the letter. He told the independent Egyptian daily Al-Masry Al-Youm that the letter proved that "secret agreements and ties" exist between the Muslim Brotherhood and Israel, "far from the gaze of the [Egyptian] people and Muslim Brotherhood members."
Deposed president Hosni Mubarak was better than the Muslim Brotherhood, Hamrawi added, according to Egyptian media, because he at least admitted his ties to "the Zionist entity" publicly.
President Morsi has come under harsh criticism both in Egypt and in the Arab world following his letter to Peres, first published by The Times of Israel.
Original article here.
---
Reuters | October 22, 2012
Egypt TV Host Gets Jail Term For Insulting President
(Reuters) - An Egyptian talk-show host faces a four-month jail term after a court convicted him of insulting President Mohamed Mursi, state media reported on Monday.
Tawfiq Okasha, whose show appears on his own channel, can appeal the sentence after paying 100 Egyptian pounds ($16.39) bail, a source in the court in southern Egypt said.
"Mursi is the President of all Egyptians and insulting him is like insulting the whole nation," Nasr El-Din Mahmoud Maghazy, who filed the case against Okasha, told Reuters.
The substance of the offending insult was not immediately available from court sources.
Okasha is known to have close ties to security officials in power during the reign of former longtime leader Hosni Mubarak, who was ousted in a popular revolt last year, and for making anti-Islamic diatribes on air.
He faces another lawsuit in the criminal court on accusations of inciting people to kill Mursi.
The prosecutor had ordered Okasha's channel taken off the air but a court on Saturday said it could resume broadcasting.
Okasha had previously said in one of his talk shows that Mursi and his group "deserve to get killed". ($1 = 6.1015 Egyptian pounds)
(Writing by Marwa Awad; Editing by Michael Roddy)
Original article here.
We welcome your comments, but please comply with our
Comment Rules.
You must be registered and logged in to leave a comment. Comments will display your Username and location.
Log In »
Notable Quotables

"It was the Palestinian mob that prevented Abu Akleh's funeral from progressing to the church by hearse as the family had wanted. It was the mob that took the body without authorization, which forced Israeli Police to intervene with force to have them return the body to the hospital. Once returned, the body was transported to the church in the hearse under Israeli protection according to plan."

~  Itamar Marcus, Founder and Director of Palestinian Media Watch, on the hijacking of Shireen Abu Akleh's funeral (more here).