Archives
AND MORE...


To Build or Blow Up, That Is The Question
____________________


Shameful Chapter In American History
____________________


The Enemy Within
____________________


One Small Step For Man...
____________________
June 22, 2012
Mr. Terrorist Goes To Washington
A delegation of Egyptian legislators is visiting the White House this week so Obama administration officials can meet with these new members of Egypt's parliament (see below). Great, right?
Except that included in the delegation was Hani Nour Eldin, who, in addition to being a newly elected member of parliament, is a member of Gamaa Islamiya, or the Egyptian Islamic Group, which is a U.S.-designated terrorist organization. In fact, its spiritual leader, Omar Abdel Rahman (aka the Blind Sheik) is currently serving a life sentence in a federal prison, thanks to Andrew McCarthy, the lead federal prosecutor in the 1993 World Trade Center bombing case.
In the words of George Orwell, "we have now sunk to a depth at which restatement of the obvious is the first duty of intelligent men," so allow us to restate the obvious: Committed law enforcement folk like McCarthy work very hard to put Islamist barbarians who would do us all harm, away for life, so what in the world was the Obama administration thinking, if at all, when they invited one of them to tea & crumpets in DC?
Did no one Google him??
The Daily Beast | June 21, 2012
Member of Egyptian Terror Group Goes to Washington
Terrorists aren't supposed to get visas. But Hani Nour Eldin was apparently invited to D.C. this week to meet with top officials. Did no one Google him?
By Eli Lake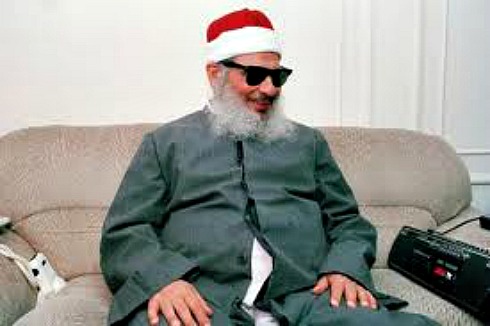 Omar Abdel Rahman (aka the "Blind Sheik"), the spiritual leader of Gamaa Islamiya.
It was supposed to be a routine meeting for Egyptian legislators in Washington, an opportunity for senior Obama administration officials to meet with new members of Egypt's parliament and exchange ideas on the future of relations between the two countries.
Instead, the visit this week looks like it's turning into a political fiasco. Included in the delegation of Egyptian lawmakers was Hani Nour Eldin, who, in addition to being a newly elected member of parliament, is a member of the Gamaa Islamiya, or the Egyptian Islamic Group—a U.S.-designated terrorist organization. The group was banned under former Egyptian president Hosni Mubarak, and is now a recognized Islamist political party. Its spiritual leader, Omar Abdel Rahman—also known as the "blind sheik"—was convicted in 1995 of plotting attacks on New York City landmarks and transportation centers, and is serving a life sentence in a North Carolina federal prison.
Eldin, according to his Facebook page, was born in 1968 and resides in Suez, near the canal that unites the Mediterranean Sea with the Red Sea. He was arrested in 1993 on terrorism charges after members of Gamaa Islamiya got into a shoot out with Egyptian security officials at a mosque. He has proclaimed his innocence in the shooting and says he was arrested because of his political activism against Mubarak.
In an interview, Eldin confirmed he is a member of Gamaa Islamiya. By U.S. law, that means he would be denied a visa to enter the country. Nonetheless, he says, he got a visa from the State Department. A State Department spokesman said, "We have no information suggesting that he or anyone else in the delegation is a member of the Egyptian Islamic Group."
Eldin said in the interview that he is not a terrorist. "I have taken the American visa from the embassy as a member of the parliament representing a political party that has been elected and is a legitimate party," he said. "I was personally not involved in any violent action or terrorism against the United States or any other country. The years I spent in prison were under the regime of Mubarak, these were political charges and there was no judicial basis for them."
In his meetings with senior Obama administration officials, Eldin says, he asked Deputy National Security Adviser Denis McDonough about transferring Abdel-Rahman to an Egyptian prison. He said his request was declined. "When I raised this issue in the White House I was told it was not in their authority and all judicial issues relating to sentences must be discussed with the Department of Justice," he says. Transferring Abdel-Rahman, says Eldin, "would be a gift to the revolution." McDonough didn't reply to requests for comment made Thursday afternoon.
In addition to being convicted of planning the 1993 World Trade Center attack, Abdel-Rahman is also a cause celebre for radical Islamic fundamentalists, including al Qaeda, who have at times demanded his release.
Juan Zarate, a senior adviser at the Center for Strategic and International Studies and a former deputy national security adviser for counter-terrorism under President George W. Bush, said it looked like the Obama administration made a mistake by allowing Eldin to visit the U.S. "The United States has to walk a fine line when engaging extremists who are now entering the political process amidst revolution," he said.
Samuel Tadros, an Egyptian citizen and research fellow at the Hudson Institute in Washington D.C. who specializes in Egyptian politics was surprised that Eldin would receive a visa. "It would have taken the State Department five seconds to Google his name in Arabic and realize he is a member of a designated terrorist organization," he said.
Eldin is a member of parliament for the Building and Development party in Egypt, which some Egypt watchers say is an arm of Gamaa Islamiya.
While in Washington, Eldin also visited the Wilson Center, a think tank that specializes in foreign policy issues. A State Department spokesman said the delegation was "invited to Washington by the Wilson Center. I refer you to the Wilson Center for any additional information on their visit."
A spokesman for the Wilson Center, however, said the delegation was selected by the State Department. "We can't speak to the background of Eldin," said Drew Sample the media relations coordinator for the Wilson Center. "The Wilson Center was one of the places on the delegation's Washington visit. We did not invite these people, the State Department arranged the visit."
Original article here.
We welcome your comments, but please comply with our
Comment Rules.
You must be registered and logged in to leave a comment. Comments will display your Username and location.
Log In »
Notable Quotables

"Mr. Netanyahu is one of the most media-savvy politicians on the planet. On Friday he appeared live via video link on 'Real Time with Bill Maher,' taking the host's alternately sardonic and serious line of questioning with gazelle-like alacrity."

~  Anthony Grant, jourrnalist who has written for many major newspapers and worked in television at Paris and Tel Aviv, interviewing former PM Benjamin Netanyahu on Monday, at the outset of Mr. Netanyahu's new book (more here).