Archives
AND MORE...


Barbarians At The Gate
_____________________


The Most Honorable People In The World
_____________________


RoP Strikes Again
_____________________


Just Another "Business" Arrangement
_____________________
March 14, 2012
More Tidings Of Joy From RoP
A suicide-bomber from al-Shabab has blown himself up in front of the presidential palace in Somalia's capital, Mogadishu, killing at least 5 and wounding others.
What is al-Shabab? An Islamist terror group based in Somalia and dedicated to bringing the world more 'tidings of joy' from the Religion of Peace.
So explain to us again the meaning of "Islamophobia" (defined as an irrational fear of Islam), i.e., which part is IRRATIONAL?
BBC | March 14, 2012
Somalia: Suicide Bomber Targets Presidential Palace
At least five people have been killed in a suicide bombing in the heart of the Somalia's capital, Mogadishu, officials have said.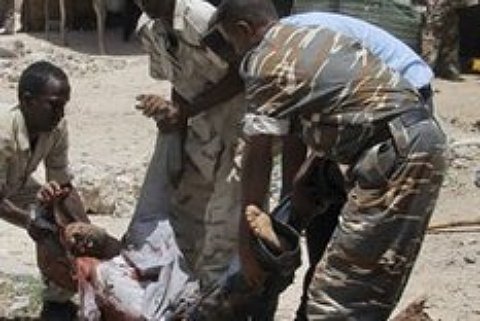 Somali soldiers carry a man wounded in a suicide blast that occurred by Villa Somalia, a heavily fortified compound in the heart of Mogadishu, Somalia, on Wednesday, March 14.
Photo Credit: AP/Farah Abdi Warsameh; Courtesy: times247.com

A bomber blew himself up at the gates of the presidential palace, which correspondents say is one of the city's most closely guarded areas.
The Islamist militants al-Shabab said they carried out the bombing.
Since being pushed out of Mogadishu in August, the group has staged a number of deadly attacks in the city.
The bomber was wearing a jacket packed with explosives, Paddy Ankunda, the spokesperson for the African Union force in Somalia (Amisom), told the BBC.
At least seven other people were injured by the blast - although al-Shabab, which recently joined al-Qaeda, says it killed 17 people, and wounded 30 others, AFP news agency reports.
Mogadishu is mostly under the control of Amisom, working alongside Somali government soldiers.
The presidential palace is a heavily fortified compound where the most senior government officials, including the president, have their offices.
Correspondents say this latest attack could be a setback to attempts to fully secure the city.
Al-Shabab is under attack on several fronts, with troops from Kenya and Ethiopia also gaining ground recently.
But the group still controls much of southern and central Somalia.
Kenyan soldiers fighting al-Shabab in southern Somalia are being integrated into the AU force - boosting Amisom numbers to 17,731 from its current level of 12,000.
Original article here.
We welcome your comments, but please comply with our
Comment Rules.
You must be registered and logged in to leave a comment. Comments will display your Username and location.
Log In »
Notable Quotables

"The damage to the reputation of the United States is indescribable. We are now seen, and will be seen for many years, as an unreliable partner in any multinational agreement or operation. Trust in the United States is irreparably damaged."

~  From Open Letter penned three days ago, by nearly 90 retired US generals and admirals to Sec of Defense Lloyd Austin and Chairman of Joint Chiefs of Staff Gen Mark Milley, calling on them to resign from their positions over their handling of US withdrawal from Afghanistan (more here).