Archives

AND MORE...


Shameful Chapter In American History
_____________________


The Enemy Within
_____________________


One Small Step For Man...
_____________________


Alger Hiss Redux?
_____________________


Fans Of The Five Percent
_____________________

January 10, 2013
Infiltration Confirmed, Now What?
The Egyptian press has finally confirmed what we and others have been warning for years, i.e., Muslim Brotherhood operatives have infiltrated the US government (e.g., The Pentagon, White House, State Dept) and heavily influencing policy there for years.
A respected Egyptian magazine Rose al-Youssef has identified at least six Muslim Brotherhood-tied agents of influence who have worked into positions inside the Obama administration (see below).
The US government has ignored warnings of MB infiltration for years now, although Congress has recently begun investigating and demanding answers. How far will these investigations go? That depends on the American people. As Franklin D. Roosevelt once said:
"The only sure bulwark of continuing liberty is a government strong enough to protect the interests of the people, and a people strong enough and well enough informed to maintain its sovereign control over the government." (Emphasis added.)
Investor's Business Daily | January 9, 2013
Egyptian Press Confirms Washington Infiltrated By Islamists
By Paul Sperry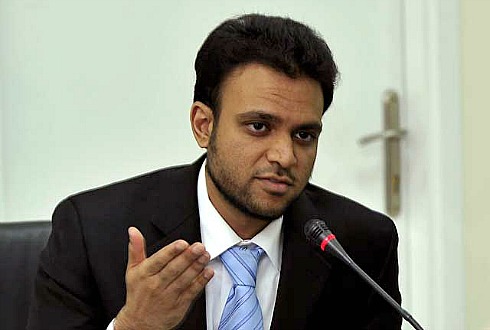 Rashad Hussain, former White House lawyer and now Obama's special envoy to the Muslim world, the Organization of the Islamic Conference. Getty
The radical Muslim Brotherhood doesn't just threaten Israel and Mideast peace. According to the Egyptian press, several of its operatives have infiltrated the U.S. government and are influencing policy here.
The respected Egyptian magazine Rose al-Youssef has identified at least six Brotherhood-tied agents of influence who have worked into positions inside the Obama administration.
The weekly publication, founded in 1925, said the operatives have turned the White House "from a position hostile to Islamic groups and organizations in the world to the largest and most important supporter of the Muslim Brotherhood," an Egyptian-based jihadist movement that supports Hamas and al-Qaida.
President Obama backed the Brotherhood's takeover of Egypt and has courted its front groups in America. Secret Service records show their representatives making hundreds of visits to the White House since 2009.
"The Brotherhood in America is committed to destroying the West from within," former federal prosecutor Andrew McCarthy told IBD, citing secret documents unearthed by the FBI after 9/11. "It has spent half a century building a considerable infrastructure here," largely with Saudi funding.
"Unfortunately," he added, "our government has done much to empower the Brotherhood's American network under the guise of 'Islamic outreach.'"
The lengthy Rose al-Youssef article, translated from Arabic by the Washington-based Investigative Project on Terrorism, is largely unsourced.
But ex-FBI agents who have investigated the Brotherhood's influence operations inside the U.S. confirm some of those named in the story have come under scrutiny. They include:
• Mohamed Elibiary, a Homeland Security adviser who came under congressional fire for improperly accessing a federal database. The Egyptian magazine says he's helped shape the administration's counterterror strategy, including censoring FBI training materials dealing with jihad.
It also alleges he helped draft Obama's remarks calling for former Egyptian President Hosni Mubarak to leave power. Mubarak had banned the Brotherhood as a terrorist group.
• Rashad Hussain, former White House lawyer and now Obama's special envoy to the Muslim world. Hussain, who has defended convicted terrorist Sami al-Arian and other U.S. Brotherhood leaders, helped draft Obama's conciliatory speech in Cairo, where he invited banned Brotherhood leaders.
• Arif Alikhan, former assistant Homeland Security secretary for policy development and now a distinguished visiting professor of homeland security and counterterrorism at the National Defense University. As a Los Angeles city official, Alikhan worked with the Brotherhood-tied Muslim Public Affairs Council to derail police efforts to monitor radical mosques.
• Imam Mohamed Magid, another Homeland Security adviser, who heads the Islamic Society of North America, or ISNA, a Brotherhood front named by the Justice Department as an unindicted co-conspirator in a criminal plot to raise millions for Hamas.
Longtime ISNA board member Sayyid Syeed is captured in a new documentary, "The Grand Deception," saying to fellow American Muslims: "Our job is to change the Constitution of America."
Brotherhood agents posing as "moderate" Muslim leaders — such as now-jailed al-Qaida fundraiser Abdurahman Alamoudi — have successfully infiltrated previous administrations. But law enforcement officials say Brotherhood infiltration is more extensive and alarming under Obama.
"The level of penetration in the last three administrations is deep," former FBI special agent John Guandolo said. "For this president, it even goes back to his campaign with Muslim Brotherhood folks working with him then."
Equally alarming, he says, the group also has placed several operatives and sympathizers within the U.S. military, further threatening national security. Guandolo says the government has ID'd hundreds of Brotherhood and Hamas fronts inside the U.S. but has shut down only a few due to political pressures.
"The Muslim Brotherhood controls about 500 organizations that are overt NGOs," he said. "That means they're running thousands of covert organizations we don't know about and nobody's monitoring."
Rep. Louie Gohmert, R-Texas, has called for an investigation of the network and its influence on the federal government, particularly related to its support for the new Cairo regime.
Original article here.
We welcome your comments, but please comply with our
Comment Rules.
You must be registered and logged in to leave a comment. Comments will display your Username and location.
Log In »
Notable Quotables

"Mr. Netanyahu is one of the most media-savvy politicians on the planet. On Friday he appeared live via video link on 'Real Time with Bill Maher,' taking the host's alternately sardonic and serious line of questioning with gazelle-like alacrity."

~  Anthony Grant, jourrnalist who has written for many major newspapers and worked in television at Paris and Tel Aviv, interviewing former PM Benjamin Netanyahu on Monday, at the outset of Mr. Netanyahu's new book (more here).