Archives
AND MORE...


A Criminal Endeavor
_____________________




Who Turned On The Spigot?
_____________________


Our 'Deal Partners'
_____________________



Welcome To Missile Town
_____________________


Gift That Keeps On Giving
_____________________
August 29, 2017
Incriminating Sites Off Limits
Iran has dismissed a US demand for UN nuclear inspectors to visit its military bases as "merely a dream" (see below).
No, this is not an article from The Onion (a satirical news publication). It's a Reuters news piece on Iran's latest rejection of IAEA/US requests to inspect its nuclear weapons program.
But, hey, let's pretend Obama, Kerry et al signed a wonderful nuclear deal with Iran, despite mounds of evidence to the contrary. Who knows, maybe if we wish hard enough, it'll come true?!
Jerusalem Post  |  August 29, 2017
Iran Rejects US Demand For UN Inspector Visit To Military Sites
By Reuters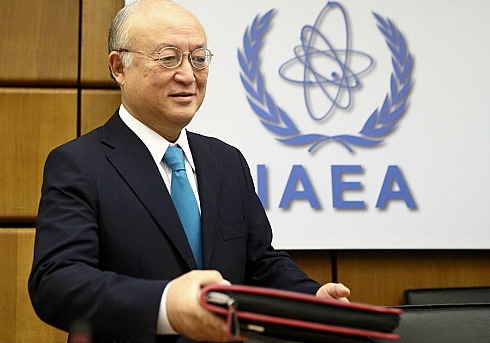 IAEA Director General Amano arrives for a board of governors meeting at the IAEA headquarters in Vienna. (photo credit: REUTERS)
ANKARA - Iran has dismissed a US demand for UN nuclear inspectors to visit its military bases as "merely a dream" as Washington reviews a 2015 nuclear agreement between Tehran and six world powers, including the United States.
US President Donald Trump has called the nuclear pact - negotiated under his predecessor Barack Obama - "the worst deal ever". In April, he ordered a review of whether a suspension of nuclear sanctions on Iran was in the US interest.
The US ambassador to the United Nations, Nikki Haley, last week pressed the International Atomic Energy Agency (IAEA) to seek access to Iranian military bases to ensure that they were not concealing activities banned by the nuclear deal.
"Iran's military sites are off limits...All information about these sites are classified," Iranian government spokesman Mohammad Baqer Nobakht told a weekly news conference broadcast on state television. "Iran will never allow such visits. Don't pay attention to such remarks that are only a dream."
Under US law, the State Department must notify Congress every 90 days of Iran's compliance with the nuclear deal. The next deadline is October, and Trump has said he thinks by then the United States will declare Iran to be non-compliant.
Under terms of the deal, the international nuclear watchdog can demand inspections of Iranian installations if it has concerns about nuclear materials or activities.
During its decade-long stand-off with world powers over its nuclear program, Iran repeatedly rejected visits by UN inspectors to its military sites, saying they had nothing to do with nuclear activity and so were beyond the IAEA's purview.
Iran has placed its military bases off limits also because of what it calls the risk that IAEA findings could find their way to the intelligence services of its US or Israeli foes.
Original article here.
We welcome your comments, but please comply with our
Comment Rules.
You must be registered and logged in to leave a comment. Comments will display your Username and location.
Log In »
Notable Quotables

"Mr. Netanyahu is one of the most media-savvy politicians on the planet. On Friday he appeared live via video link on 'Real Time with Bill Maher,' taking the host's alternately sardonic and serious line of questioning with gazelle-like alacrity."

~  Anthony Grant, jourrnalist who has written for many major newspapers and worked in television at Paris and Tel Aviv, interviewing former PM Benjamin Netanyahu on Monday, at the outset of Mr. Netanyahu's new book (more here).