Archives
AND MORE...


Another Genocidal Mufti of Jerusalem
_____________________


CAIR 1 - West Point 0
_____________________


Oh, Canada
_____________________


"Pissing Away the War on Terror"
_____________________
January 31, 2012
Incentivizing Killers
This brilliant (NOT) idea has been floated before (here), and it's as absurd today as when we first heard about it.
The U.S. is considering releasing Afghan Taliban killers from Gitmo, as an "incentive" to bring the Taliban to peace talks (see below). An incentive for killers?!
The mighty U.S. of A needs to incentivize a bunch of barbaric Islamic primitives in order to get them to sit down for peace talks? How about incentivizing them with some AK-47s pointed at their heads?
America is not the one who should be coaxing, cajoling or offering goodwill gestures or confidence-building measures to Taliban "militants." If anyone should be proving anything to anyone, it's the Taliban to us. And what, pray tell, are we going to use as bargaining chips? What's the grand bargain we're going to strike with these 7th century savages?!
When will we ever learn that capitulating to primitive killers does not earn us any brownie points in their eyes? Or that peace talks are meaningless unless they are between a clear winner and a clear loser, and the losing side knows who's who?!
History has shown us this repeatedly, yet we continue to ignore it. We think we can rationalize with irrational Islamic killers, and earn their appreciation for our kindness, to boot!
Insanity is defined as doing the same thing over and over and expecting different results. And yet that is exactly what we are doing.
Military Times | January 31, 2012
U.S. Considering Release of Taliban From Gitmo
By Anne Gearan & Kimberly Dozier / AP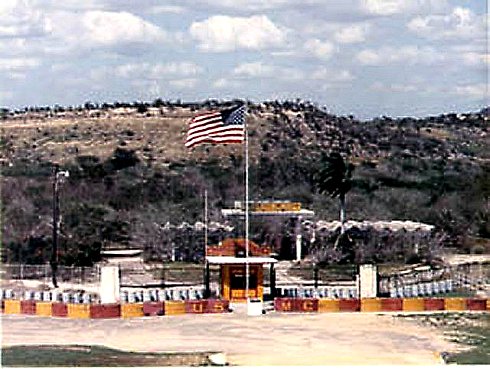 Guantanamo Bay Photo:globalsecurity.org
WASHINGTON — U.S. intelligence officials acknowledged Tuesday that the United States may release several Afghan Taliban prisoners from the military prison at Guantanamo Bay, Cuba, as an incentive to bring the Taliban to peace talks.
Meanwhile, Afghan officials told The Associated Press that a plan to give Afghanistan a form of legal custody over the men if they are released satisfied their earlier objection to sending the prisoners to a third country.
Director of National Intelligence Jim Clapper told Congress Tuesday that no decision had been made on whether to trade the five Taliban prisoners, now held at Guantanamo Bay as part of nascent peace talks with the Taliban. He and CIA Director David Petraeus did not dispute that the Obama administration is considering transferring the five to a third country.
U.S. officials and others had previously spoken only vaguely, and usually anonymously, about the proposal to send the prisoners to Qatar, a Persian Gulf country that has asserted a central role in framing talks that might end the 10-year war in Afghanistan. The lead U.S. negotiator trying to coax the Taliban into talks had also publicly acknowledged the possibility of a release, but said there was no final decision.
The prisoners proposed for transfer include some of the detainees brought to Guantanamo during the initial days and weeks of the U.S. invasion that toppled the Taliban government in Afghanistan in 2001. At least one has been accused in the massacre of thousands of Shiite Muslims in Afghanistan, according to U.S. and other assessments, but none are accused of directly killing Americans.
"I don't think anybody harbors any illusions about it, but I think the position is to at least explore the potential for negotiating with them as a part of this overall resolution of the situation in Afghanistan," Clapper said during a Senate Intelligence Committee hearing.
The Obama administration has recently embraced the possibility of negotiation with the Taliban much more openly, saying that although they remain cautious they are also encouraged that the militants may be ready to bargain. Peace talks, if they come to pass, would include the elected Afghan government and, at least at the outset, representatives of the U.S. government. With nearly 100,000 troops in Afghanistan and a war and development budget in the billions of dollars, the U.S. remains the largest power broker in Afghanistan.
Afghan President Hamid Karzai supports a prisoner release as a means to build confidence among the Taliban militants that talks are worthwhile, but he had balked at the U.S.-backed plan to send them to Qatar instead of home to Afghanistan. That plan appeared to undercut his authority and offend Afghan sovereignty, Afghan officials said. Karzai yanked his ambassador from Qatar, saying Qatar had not kept him properly informed.
But recent discussions between Karzai and U.S. negotiators found a way around the Afghan objections, a senior Afghan diplomat and another official said. Speaking on condition of anonymity because the arrangement is still under discussion, the officials said Afghanistan could assume a sort of legal custody over the prisoners and then, with the prisoners' own consent, agree to consign them to house arrest in Qatar.
An Afghan delegation would prepare the way for that arrangement by visiting the prisoners at Guantanamo and signing off on the transfer plan, one official said.
The Obama administration does not want to send the prisoners to Afghanistan, in part for fear they might be released. The men are considered "enemy combatants" who were, at least until recently, considered too dangerous to release.
Afghan custody of the men, even if only on paper, could provide sufficient political cover for Karzai against criticism at home that the arrangement is a snub. Karzai has already reluctantly publicly endorsed Qatar as the site for a militant political office that would serve as a headquarters for talks.
U.S. officials would not confirm the possible solution but did not dispute it.
Separately, Afghan officials said their government plans to explore talks with militants under the auspices of Saudi Arabia or others. Those talks would complement talks in Qatar, not undermine them, and carry at least an implicit stamp of approval from U.S. negotiators, the officials said.
The White House National Security Council had no comment on either issue.
The AP previously reported a proposal to release two or three of the Taliban prisoners as an initial goodwill gesture, to be followed by the others. All would go into custody in Qatar, under conditions that are likely to be less secure and less restrictive than at Guantanamo.
Several members of Congress oppose any release, and Congress has erected several legal hurdles that military and other officials acknowledge would slow and complicate the process.
Several GOP lawmakers who object to the transfer are pushing the White House to keep the detainees in Guantanamo "until the end of hostilities," according to a U.S. official with knowledge of the negotiations.
If the Taliban wants to end hostilities through negotiations, "then we could transfer their fighters," the official said, speaking on condition of anonymity to discuss conversations with the White House.
Of particular concern is Mullah Norullah Nori, described in U.S. military documents as one of the most significant former Taliban officials held at Guantanamo. He was a senior Taliban commander in Mazar-e-Sharif when the Taliban fought U.S. forces in late 2001. He previously was a Taliban governor in two provinces Northern Afghanistan, where he has been accused of ordering the massacre of thousands of Shiite Muslims.
Petraeus also acknowledged discussions about the five Taliban prisoners, and told Congress that the U.S. government has assessed the risk that the men might still be dangerous.
"This proposed so-called trade has actually not been decided yet," Clapper said, speaking at an annual hearing on worldwide threats. Republicans were openly skeptical, saying recidivism among former Guantanamo detainees is high and the gambit is of questionable value in promoting peace.
Petraeus said his analysts had assessed various scenarios under which the prisoners could be released to countries other than Afghanistan and Pakistan. The analysts sought to determine which countries would be best able to monitor the freed men, and keep them from returning to militancy.
Clapper's office reported in December 2010 that 13.5 percent of released Guantanamo detainees are "confirmed" and 11.5 percent "are suspected" of reengaging in terrorist or insurgent activities after being transferred.
Clapper said in the case of the Taliban prisoners, U.S. negotiators would first have to determine where the prisoners would be released, and how best to make sure they did not return to the fight. The defense spending bill signed by President Barack Obama in December also requires that the Pentagon certify that any release is safe.
"Part and parcel of such a decision, if it were finally made, would be the actual determination of where these detainees might go and the conditions in which they would be controlled or surveilled," Clapper said.
But Clapper said the prisoner release could be a confidence-building measure that helps move negotiations forward.
The intelligence agencies' annual threat assessment said the Taliban was less able to intimidate the Afghan population that last year, especially in areas where NATO forces are concentrated, but that its leaders continue to direct the insurgency from their safe haven in Pakistan.
U.S. officials have pledged to consult with Congress about any release, which was not enough to persuade Sen. Saxby Chambliss, R-Ga.
"I want to state publicly as strong as I can that we should not transfer these detainees from Guantanamo," Chambliss told the intelligence agency heads.
Associated Press writer Ben Fox contributed to this report from San Juan, Puerto Rico.
Original article here.
We welcome your comments, but please comply with our
Comment Rules.
You must be registered and logged in to leave a comment. Comments will display your Username and location.
Log In »
Notable Quotables

"If I get to the point where there is a judgment that says, 'You must say you hate Israel and the Jews', I would rather cease to be Chief Justice."

~ Chief Justice of South Africa since 2011, Mogoeng Mogoeng, comes under sustained attack from his country's powerful pro-Palestinian lobby for his declaration of support for the State of Israel (more here).