May 19, 2010
Huh?
What is a Hezbollah "moderate" (see below)? Any relation to al-Qaeda "moderates"?
Memo to John Brennan & co.: Better to remain silent and be thought a fool, than to speak and remove all doubt.


Haaretz.com | May 19, 2010
U.S. Adviser: Washington Hopes To Promote Hezbollah 'Moderates'
Hezbollah not 'purely a terrorist organization', assistant to the president for homeland security and counterterrorism says.
By Reuters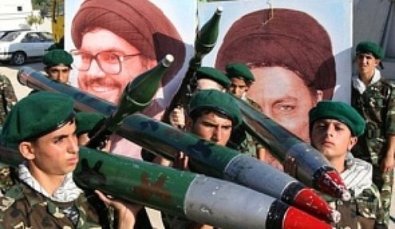 Young Hezbollah supporters holding mock ups of Katyusha rockets in
front of a portrait of group leader Sheikh Hassan Nasrallah. Photo by: AP

United States President Barack Obama's administration is looking for ways to build up "moderate elements" within the Lebanese Hezbollah guerrilla movement and to diminish the influence of hard-liners, a top White House official said on Tuesday.
John Brennan, assistant to the president for homeland security and counterterrorism, met with Lebanese leaders during a recent visit.
"Hezbollah is a very interesting organization," Brennan told a Washington conference, citing its evolution from "purely a terrorist organization" to a militia to an organization that now has members within the parliament and the cabinet.
"There is certainly the elements of Hezbollah that are truly a concern to us what they're doing. And what we need to do is to find ways to diminish their influence within the organization and to try to build up the more moderate elements," Brennan said.
He did not spell out how Washington hoped to promote "moderate elements" given that the organization is branded a "foreign terrorist organization" by the United States.
"We don't deal with them," he acknowledged. Last month, the United States and Israel accused Syria of arming Hezbollah with increasingly powerful missiles and weapons technology. Brennan said he raised those concerns during his recent visit to the region.
Original article here.
We welcome your comments, but please comply with our
Comment Rules.
You must be registered and logged in to leave a comment. Comments will display your Username and location.
Log In »
Notable Quotables

"Don't threaten us with cutting off your aid. It will not work. I am not a Jew with trembling knees. I am a proud Jew with 3,700 years of civilized history. Nobody came to our aid when we were dying in the gas chambers and ovens. Nobody came to our aid when we were striving to create our country. We paid for it. We fought for it. We died for it. We will stand by our principles. We will defend them. And, when necessary, we will die for them again, with or without your aid."

~  Israeli PM Menachem Begin, in June 1982 at height of Lebanon War, responding to then Senator Joe Biden in front of Senate Foreign Relations Committee, after Biden had attacked Israeli settlements in Judea and Samaria and threatened to cut economic aid to Israel (more here).