Archives

AND MORE...


About Painful Sacrifices
_____________________


Thug-In-Chief
_____________________


"I Have Israel's Back"
_____________________


Enemy Named
_____________________

August 14, 2014
Hope & Change = Petty & Vindictive
Why would the Obama administration halt a shipment of Hellfire missiles to US ally, Israel, right in the middle of an operation against Hamas in Gaza?
Deputy State Department spokesperson Marie Harf explained: "We thought Israel could do more to prevent civilian casualties. Due to the crisis in Gaza we took additional care like we would take in any crisis. We took steps to look at (munitions) deliveries."
Got that? The Obama administration thought Israel could do more to prevent civilian casualties. Never mind the Israel Defense Forces (IDF) has exercised more caution than any military in the world, in order to prevent civilian casualties. Or that its adversary, Hamas - a State Department-designated terrorist organization - fires missiles into Israel from Gazan homes, hospitals, schools, etc., and uses Gazan civilians as human shields.
As an Al Jazeera Arabic anchor recently asked his audience: Why can't Arab armies behave more humanely towards civilians, like the Israeli army does?
But apparently, none of this bears any relevance to what the Obama administration or the State Department think.
Jerusalem Post |  August 14, 2014
Report: US Halted Weapons Transfer To Israel During Gaza Offensive
Amid tensions between Netanyahu and Obama, the US halted transfer of 'Hellfire' air-to-surface missiles, 'Wall Street Journal' reports
By JPost.com Staff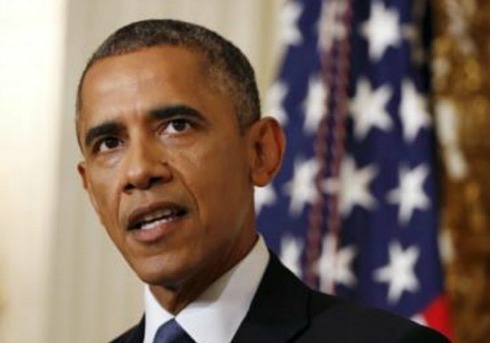 US President Barack Obama. Photo: REUTERS
Amid diplomatic tensions between US President Barack Obama's administration and Prime Minister Binyamin Netanyahu, the US halted a shipment of air-to-ground missiles to Israel last month during Israel's offensive in the Gaza Strip, according to a report in the Wall Street Journal.
In July, Israel requested "through military-to-military channels a large number of Hellfire missiles", a first batch of which was about to be released to Israel, the Wall Street Journal reported, citing Israeli and American officials.
But the Pentagon immediately put the shipment on hold, and top officials at the White House instructed US defense agencies to consult with the White House and the State Department before approving any additional Israeli requests, according to the report.
A senior Obama administration official was quoted in the report as saying the decision to scrutinize future transfers at the highest levels amounted to "the United States saying 'The buck stops here. Wait a second…It's not OK anymore."
The report depicted a context of poor relations between Obama and Netanyahu and claimed that the decision to halt the weapons transfer was made at a point when the White House and State Department became "increasingly disturbed by what they saw as heavy-handed battlefield tactics that they believed risked a humanitarian catastrophe," in Gaza.
Original article here.
We welcome your comments, but please comply with our
Comment Rules.
You must be registered and logged in to leave a comment. Comments will display your Username and location.
Log In »
Notable Quotables

"Mr. Netanyahu is one of the most media-savvy politicians on the planet. On Friday he appeared live via video link on 'Real Time with Bill Maher,' taking the host's alternately sardonic and serious line of questioning with gazelle-like alacrity."

~  Anthony Grant, jourrnalist who has written for many major newspapers and worked in television at Paris and Tel Aviv, interviewing former PM Benjamin Netanyahu on Monday, at the outset of Mr. Netanyahu's new book (more here).