Archives

AND MORE...


Anatomy Of Betrayal
_____________________


The Bipartisan Myth
_____________________


STOP Feeding These Orgs
_____________________


Jews Downgraded
_____________________
September 30, 2015
Hit By Traffic From Both Sides
Congressional Republicans have grown increasingly disillusioned with AIPAC in recent years. And after the group's latest unsuccessful lobbying campaign against the Iran deal, it is no longer viewed as the de facto leader on Iranian legislative strategy (see below).
British Prime Minister Margaret Thatcher once said: "Standing in the middle of the road is very dangerous; you get knocked down by the traffic from both sides."
Which is what has happened to AIPAC. Sitting on the fence, trying to straddle both sides of the aisle has resulted in Democrats taking AIPAC/Jewish support for granted, and Republicans becoming disillusioned that despite all their efforts, an overwhelming majority of American Jews BLINDLY follow the Democratic Party. 
Washington Free Beacon  |  September 28, 2015
Pro-Israel Lobby Faces Tough Road to Rebuild Trust With GOP Allies
Senior Republican Aide: 'It's hard to see what we gain' from working with AIPAC
By Alana Goodman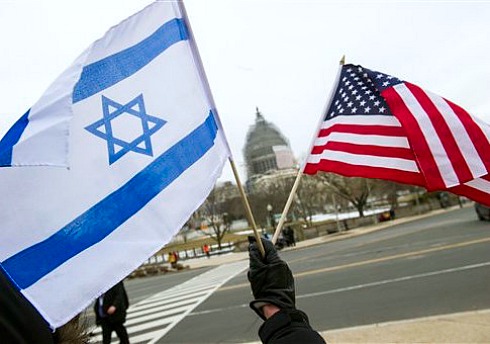 Photo: AP
When Rep. Peter Roskam, the staunchly pro-Israel Republican from Illinois, was preparing to introduce a motion to delay the Iran deal vote earlier this month, there was one group that he did not call—the American Israel Public Affairs Committee.
His failure to inform the influential lobbying group was not an accident. Republicans on the Hill have grown increasingly disillusioned with AIPAC in recent years. And after the group's latest unsuccessful lobbying campaign against the Iran deal, it is no longer viewed as the de facto leader on Iranian legislative strategy.
"Their clout with Republicans started going south after the [Chuck] Hagel confirmation," said one senior GOP adviser. "This is just an exclamation point on something Republicans have already been feeling."
Other Republicans on the Hill—most of whom declined to speak on the record—offered similar assessments. GOP members have lost trust in AIPAC because they believe the organization has been more concerned with maintaining its support among Democrats than in fighting major legislative battles over the past few years.
That feeling grew after AIPAC indicated it would not target Democrats who backed the Iran deal. Although AIPAC mounted a high-dollar lobbying campaign, it was not able to get enough Democratic support to go forward with a vote of disapproval in the Senate earlier this month.
"It's hard to see what we gain [from talking to AIPAC]," said one senior Republican Senate aide. "We have many, many friends who are part of the organization, but the organization doesn't seem to be advancing the causes we hold dear."
Another senior GOP congressional aide said that Republicans are "very disappointed with AIPAC, and they do see this as partially AIPAC's loss."
"I think there are legitimate questions about whether they can [take the lead on strategy]," added the aide. "I do think it hurts their standing with Republicans."
AIPAC declined to comment for this story.
While a number of groups and officials lobbied against the deal, AIPAC spearheaded the strategy, pouring around $30 million into its campaign and making hundreds of direct appeals to members of Congress. In the end, just four Senate Democrats said they would oppose the agreement, allowing pro-deal Democrats to filibuster and block a vote from taking place.
But Republican disenchantment with AIPAC dates back to at least the end of 2012, according to insiders. That was when the lobbying group declined to fight President Obama's nomination of Chuck Hagel, a former Republican senator with a poor record on Israel issues and a history of making anti-Israel remarks, as secretary of defense.
"[AIPAC] refused to fight on Chuck Hagel's nomination," said one senior GOP political adviser. "That was the opening salvo from the president to test the pro-Israel community, and to see if [the White House] could push AIPAC around."
While Senate Republicans were able to mount a filibuster against Hagel, the nomination was eventually approved.
"All the Republicans looked at each other, being like, 'If [AIPAC's] not going to fight on this when this is a winnable battle right now, what are you going to fight about?' That was the beginning of the end," said the adviser.
Others agreed that the Hagel nomination was a tipping point.
"It was a 'fuck you' to AIPAC," said one pro-Israel official. "And they didn't fight it."
Republican concerns with AIPAC deepened in 2014, after the group began lobbying against a tough Iran sanctions bill that it had previously supported.
At the time, the White House opposed the Menendez-Kirk sanctions legislation, and Senate Democrats up for reelection might have faced backlash from their constituents had they sided with President Obama and voted against the bill.
Senate Republicans who were pushing for a vote suddenly found themselves under pressure from AIPAC to shelve the bill.
"AIPAC took their legs out, and sided with Reid and Senate Democrats against voting on the Menendez-Kirk bill," said the senior GOP political adviser. "Only God knows whether or not that legislation could have altered the course of history.
Jeff Ballabon, a pro-Israel Republican operative who has been critical of AIPAC, said the 2014 sanctions debate was a defining moment.
"AIPAC's been hemorrhaging credibility among Republicans since they flipped and lobbied against the Iran sanctions bill—lobbied against Israel—even though that bill had enough votes to pass," said Ballabon, who recently formed the Iron Dome Alliance, a pro-Israel Super PAC.
"They did it to shield Democrats. Republicans have tolerated AIPAC's shenanigans for years, but that was a watershed."
Despite these past issues, Republicans signed on to AIPAC's strategy during the debate over the Iran nuclear deal. The Senate GOP voted overwhelmingly—if reluctantly—for the Corker-Cardin bill supported by AIPAC, which gave the Congress a chance to review the Iran deal and vote for disapproval.
Sources said that AIPAC officials assured Republicans there would be enough Democratic opposition to the deal to win a disapproval vote. But in the end, most of the lobbying group's top Democratic supporters abandoned it.
"We were informed by AIPAC that eventually they would spring into action with this amazing blitz lobbying campaign, millions and millions of dollars, and it just never materialized," said a senior Republican Senate aide.
In the wake of the Iran deal loss, some Republicans have signaled that they will not necessarily be looking to AIPAC to lead future legislative strategy on Iran.
Earlier this month, Rep. Roskam spearheaded a motion—with support from Reps. Lee Zeldin (R., N.Y.), Mark Meadows (R., N.C.), and others—to delay a vote on the Iran deal until President Obama complied with transparency requirements in the Corker-Cardin legislation that was passed earlier this year.
Corker-Cardin required the White House to turn over all the documents and side-agreements associated with the Iran deal to Congress and then allow 60 days of review before a vote could take place.
Sen. Ted Cruz (R., Texas) introduced a similar motion in the Senate. But neither office gave AIPAC a heads up, which sources said was unusual.
"They sprung it on AIPAC at the very last minute," said one pro-Israel consultant. "They're not necessarily taking AIPAC's lead on next steps, which is unusual, because typically they do. Normally AIPAC is in the middle of most conversations, but [now] they're not. It's definitely a change."
According to some insiders, the rift is not irreparable, but it will take awhile for trust to be rebuilt.
"Republicans feel very burnt by what happened on the Iran deal," said the senior Republican Senate aide. "Maybe [AIPAC will] redeem themselves … Right now I would not think anyone would see them as a particularly valuable institution."
Others said the lobbying group's problems are inherent in its model and that it was never designed to tackle tough legislative battles.
"AIPAC has expanded itself so much to such a size and scope, and has basically failed on everything outside of its original core mission, foreign aid to Israel," said the senior GOP policy adviser. "Perhaps the lesson is stick to the bread and butter, and let others lead the way on issues like Iran and BDS."
Another senior Republican senate aide said AIPAC's loss was likely to usher in a "period of estrangement." He said it would be difficult to get members of Congress to unite around one significant piece of legislation, such as the sweeping Iran sanctions laws passed overwhelmingly in 2011 and 2012—thanks in part to AIPAC's efforts.
"March 2016. AIPAC policy conference. What are they lobbying?" said the aide. "Maybe they're lobbying the Hezbollah [sanctions bill in the Senate]. Maybe they're lobbying for the Kirk-Menendez bill, to extend the Iran Sanctions Act. Maybe they're lobbying some sort of bipartisan bill to reassure Israel's security … some of this stuff is really low-hanging fruit."
"I don't know. I guess the days of the Menednez-Kirk sanctions in 2011 and 2012, and Iran Threat Reductions [Act], those are long gone," said the aide.
Original article here.
We welcome your comments, but please comply with our
Comment Rules.
You must be registered and logged in to leave a comment. Comments will display your Username and location.
Log In »
Notable Quotables

"Mr. Netanyahu is one of the most media-savvy politicians on the planet. On Friday he appeared live via video link on 'Real Time with Bill Maher,' taking the host's alternately sardonic and serious line of questioning with gazelle-like alacrity."

~  Anthony Grant, jourrnalist who has written for many major newspapers and worked in television at Paris and Tel Aviv, interviewing former PM Benjamin Netanyahu on Monday, at the outset of Mr. Netanyahu's new book (more here).