May 16, 2011
Greetings From The Lovers of Peace
Remember those democracy-lovin', freedom-fightin', Mubarak-oustin' protestors in the streets of Egypt? Well, it appears they've found a new cause célèbre, i.e., the Palestinians (see below).
Yes, we know the Arabs look down on the Palestinians, but hey, any excuse to lynch Israelis/Jews, right?!
On his upcoming visit to Washington, let's hope Israeli PM Netanyahu tells President Obama to put a sock in it and find someone else to use as a punching bag, since even Israelis get tired of serving as designated scapegoat.
[MEMO to Netanyahu: Stop taking your cues from the AIPAC crowd, as 80% of 'em voted for Obama and 80% will likely vote for him again. And forgive the loud applause and standing ovations they'll be giving "friends" like Obama and Hillary, at the upcoming AIPAC conference this weekend, as they're not too picky about who they applaud.]
[AND p.s. Keep a close eye on your embassy in Cairo (and everywhere else), 'cause we all know what happens when democracy-lovin' Islamic mobs get anywhere near an embassy....]


Haaretz.com | May 16, 2011
More than 350 hurt in protests at Israel's embassy in Cairo
Several hundred protesters gathered in front of the embassy in the Egyptian capital late on Sunday on the anniversary of what Arabs refer to as the 'Nakba', or catastrophe.
By News Agencies and Haaretz Service
More than 350 people were injured in a protest held outside Israel's embassy in Cairo to mark the displacement of Palestinians during when the state was created in 1948, the Egyptian state news agency said on Monday.
Several hundred protesters gathered in front of the embassy in the Egyptian capital late on Sunday on the anniversary of what Arabs refer to as the "Nakba", or catastrophe.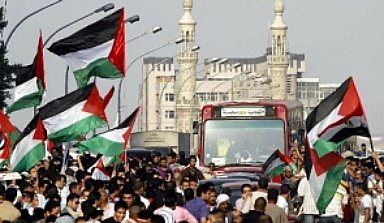 Egyptians wave Palestinian flags during a 'Nakba' demonstration in
front of the Israeli embassy in Cairo, May 15, 2011. Photo by: Reuters
Police fired tear gas to force back demonstrators who broke through a barricade in front of the embassy, witnesses said. The army later detained 186 people, the MENA news agency reported.
"The injuries varied from suffocation caused by tear gas and bruises to minor injuries caused by shoving," MENA quoted a senior health ministry official, Abdel Hamid Abaza, as saying.
It said 353 people were injured outside the embassy, of which 45 were transferred to hospitals.
Egypt's interim military rulers have come under popular pressure to adopt a more pro-Palestinian stance since a popular uprising ousted President Hosni Mubarak in February.
Many Egyptians regarded Mubarak, a U.S. ally, as too soft on Israel and want their new government to do more to help the Palestinians.
The protests in Cairo came a day after over a dozen people were killed as Palestinian refugees and their supporters stormed the fences on Israel's border with Lebanon and Syria, some managing to cross into Israel. The IDF and the Lebanese army opened fire to disperse the protesters.
Israel fired two tank shells and several rounds from machine guns as dozens of Palestinian protesters approached the heavily fortified border in the Gaza Strip over the course of the day, wounding at least 45 people, a Palestinian health official said.
Across the West Bank, thousands of Palestinians took to the streets, waving flags and holding old keys to symbolize their dreams of reclaiming property they lost when Israel was created on May 15, 1948.
Palestinian Authority President Mahmoud Abbas said of the Palestinians who died, "Their blood will not go to waste… their blood was spilled for the freedom of our Palestinian people and for its rights."
Abbas said the participation of a large number of people in the protests was proof that "right is stronger than time, and the will of people is stronger than the power of the oppressive forces and the occupiers."
In reaction to violent incidents that took place on Israel's borders on Sunday, Prime Minister Benjamin Netanyahu said that Israel was determined to defend itself and its sovereignty.
Netanyahu said that the Nakba Day protests were not about the 1967 borders, but rather about "undermining the very existence of Israel."
Original article here.

We welcome your comments, but please comply with our
Comment Rules.
You must be registered and logged in to leave a comment. Comments will display your Username and location.
Log In »
Notable Quotables

"Mr. Netanyahu is one of the most media-savvy politicians on the planet. On Friday he appeared live via video link on 'Real Time with Bill Maher,' taking the host's alternately sardonic and serious line of questioning with gazelle-like alacrity."

~  Anthony Grant, jourrnalist who has written for many major newspapers and worked in television at Paris and Tel Aviv, interviewing former PM Benjamin Netanyahu on Monday, at the outset of Mr. Netanyahu's new book (more here).