Archives
AND MORE...


"Kissing Assad's Ass"
_____________________


American Psyche Easily Manipulated
____________________



Syria Using Human Shields On Tanks
____________________


Today's Freedom Fighters Tomorrow's Terrorists?
_____________________

March 14, 2012
From Assad With Love
Stop blaming al-Qaida, wrote Lebanese businessman Hussein Mortada (known for his links to Iran) in an email to Syrian President Bashar Assad, adding:
"I have received contacts from Iran and Hezbollah in my role as director of many Iranian-Lebanese channels and they directed me to not mention that al-Qaida is behind the operation. It is a blatant tactical media mistake."
Thousands of secret emails said to have been intercepted by Syrian opposition group, the Supreme Council of the Revolution, and released by Britain's Guardian newspaper show Iranian officials advised Assad to verbally attack Israel, and center on the "Palestinian cause" in order to divert attention and deflect criticism from his brutal crackdown.
While "Blame Israel" has ALWAYS been the Arab/Muslim world's rallying cry, the emails are a fascinating read.
Among other revelations, they show that Assad was briefed in detail about the presence of western journalists in the Baba Amr district of Homs and urged to "tighten the security grip" on the opposition-held city in November; that he assembled a team of aides to advise him on media strategy in the face of increasing international criticism of his regime's attempts to crush the uprising; and that wife, Asma, enjoyed a luxurious lifestyle and spent large amounts of money on jewelry, furniture and other designer goods, as Syrians faced food shortages and brutal suppression.
Outrageous, revolting and disgraceful, but welcome to the Arab world, folks.
Haaretz.com | March 14, 2012
Report: Iran officials told Assad to focus on Israel to divert attention from Syria crisis
Emails said to have been intercepted by Syria opposition and released by the Guardian show advisers indicated Syrian President should verbally attack Israel, center on Palestinian cause in a planned speech.
By Haaretz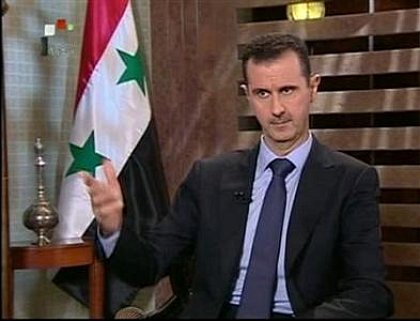 Syria's President Bashar Assad. Reuters
Syrian President Bashar Assad was advised by Iranian officials to divert attention toward Israel and the Palestinian cause in an effort to deflect criticism of his brutal crackdown, emails said to have been intercepted by Syrian opposition and released by the U.K.'s the Guardian indicated on Wednesday.
According to the Guardian, the messages were said to have been intercepted by the opposition's Supreme Council of the Revolution between June of 2011 and February 2012, and include missives from Assad's private account as well as that belonging to his wife, Asma.
One email sent in December 31 indicated that Assad's aides advised the Syrian president on the contents on an upcoming speech following "consultations with a good number of people in addition to the media and political adviser for the Iranian ambassador."
In the composed memorandum, Assad was advised to stress the issue of Muslim identity through the use of Koran quotes, as well as centering on what the email called "Syria's principles," which included: "Resistance"; "Hostility to Israel, the first enemy of the Muslims"; and "Protection of Palestinian people's rights (real prayers should be in the direction of Jerusalem)."
"Maybe here the president can reiterate his stance by condemning forcefully the recent Israeli practices and policies to Judaise Al-Quds (Jerusalem)," the email added, saying that Assad should use "powerful and violent" language in his opposition to Israel.
"Here the subject of Israel comes up and it becomes necessary to put stress on the particular merits of the president by linking the foreign pressures on Syria, which differs in its toughness and content to other countries in crisis, with the geographical proximity to Israel and the position of the people and the regime towards Israel," the memo stated.
Culminating the email's section on Israel, the adviser said Assad should make "a clear distinction between the west's ambitions and people's demands and that the west and Israel are exploiting part of the Syrian people without their knowledge to break Syria, but the president has a great confidence in the patriotism of the entire Syrian people."
The emails released by the Guardian also indicated that the Syria leader received advice from noted Lebanese businessman Hussein Mortada, known for his links to the Iran. In one message, Mortada advised Assad to stop blaming al-Qaida for opposition attacks.
"It is not out of our interest to say that al-Qaida organization is behind the operation because this claim will [indemnify] the U.S. administration and Syrian opposition," Mortada was quoted as saying, adding "I have received contacts from Iran and Hezbollah in my role as director of many Iranian-Lebanese channels and they directed me to not mention that al-Qaida is behind the operation. It is a blatant tactical media mistake."
Another correspondence of note was between Assad's wife Asma and the daughter of the emir of Qatar, Hamid bin Khalifa al-Thani, in which the Qatari noblewoman both advised Assad to step down as well as indicated that Qatar may be able to present the Syrian leader's family with asylum.
"My father regards President Bashar as a friend, despite the current tensions – he always gave him genuine advice," she was cited by the Guardian as writing, saying that the "opportunity for real change and development was lost a long time ago. Nevertheless, one opportunity closes, others open up – and I hope it's not too late for reflection and coming out of the state of denial."
A later email seemed more direct, saying that: "Just been following the latest developments in Syria ... in all honesty – looking at the tide of history and the escalation of recent events – we've seen two results – leaders stepping down and getting political asylum or leaders being brutally attacked. I honestly think this is a good opportunity to leave and re-start a normal life."
"I only pray that you will convince the president to take this an opportunity to exit without having to face charges. The region needs to stabilise, but not more than you need peace of mind. I am sure you have many places to turn to, including Doha."
Moreover, Assad communicated with Khaled al-Ahmed, who is believed to have been tasked with providing advice on Homs and Idlib. According to the emails, Ahmed told Assad that "a trusted source who met with leaders of groups in Baba Amr today said that a big shipment of weapons is coming from Libya and will arrive at the shores of one of the neighbouring states within three days, to be smuggled to Syria."
Ahmed further stated that he had been told that European journalists had entered Baba Amr "by crossing the Lebanese borders illegally." According to Ahmed, one of the journalists was French and the other was German.
We welcome your comments, but please comply with our
Comment Rules.
You must be registered and logged in to leave a comment. Comments will display your Username and location.
Log In »
Notable Quotables

"Mr. Netanyahu is one of the most media-savvy politicians on the planet. On Friday he appeared live via video link on 'Real Time with Bill Maher,' taking the host's alternately sardonic and serious line of questioning with gazelle-like alacrity."

~  Anthony Grant, jourrnalist who has written for many major newspapers and worked in television at Paris and Tel Aviv, interviewing former PM Benjamin Netanyahu on Monday, at the outset of Mr. Netanyahu's new book (more here).