Archives

AND MORE...


Europe Simply Being Europe
_____________________


Our Whisperer-in-Chief
_____________________


PU to the EU
____________________


Hogwash: "Don't Blame Islam For Toulouse Killings"
_____________________

August 27, 2012
'Discover Russia'
Behold the beauty of Moscow's Cathedrals, the Kremlin's golden cathedral spires, the Moscow embankment with the Christ the Saviour Cathedral seen further down the Moskva river, the spectacular views, and the convoy of military trucks carrying ICBMs, including nuclear warheads!
Yep, these can all be seen in Aeroflot's (Russia's national airline) "Discover Russia" posters plastered throughout Metro stations in Brussels (see below).
"European Union and NATO officials are bemused by the advertising campaign." Of course, their bemusement doesn't surprise us, as Europeans have a habit of being "bemused" by displays of military might (e.g., Nazi parades were held throughout Europe in the early 1940's, including on the Champs Elysees in Paris).
Telegraph.co.uk | August 27, 2012
Russia's Aeroflot Entices Visitors With Moscow's Cathedrals and Nuclear Missiles
As well as the beauty of Kremlin's golden cathedral spires, sinister nuclear missiles will also welcome tourists to Moscow, according to bizarre billboard advertisements from Russia's national airline.
By Bruno Waterfield, Brussels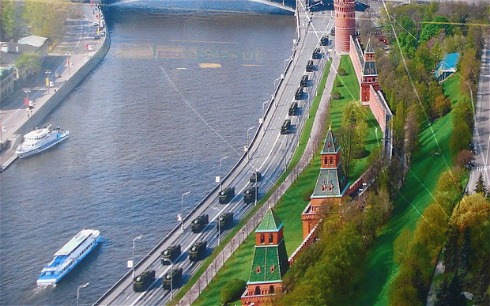 The Brussels metro is displaying an advertisement paid by the airline Aeroflot under the heading "Discover Russia"
Posters advertising Aeroflot's twice-a-day flights from Brussels to Moscow have appeared under the heading "Discover Russia" on the walls of the Belgian capital's Metro underground service.
At first sight, the poster is an attractive aerial photograph of the Kremlin and the Moscow embankment with the Christ the Saviour Cathedral seen further down the Moskva river.
But on closer examination, the photograph also shows a convoy of military trucks carrying intercontinental ballistic missiles or ICBMs, including nuclear warheads.
Remi Mertens, 31, a commuter on the Brussels Metro said his eyes had been quickly drawn to the missile convoy, which is clearly visible at the left-hand side of the picture.
"You can't miss it, the missiles are blatantly and obviously there," he said. "It's hard to think it's a mistake. The posters are all over the Metro and you see people walking by, doing a double take and then stopping to look more closely."
The weapons, some of which appear to be "Topol" mobile nuclear missile launchers, known by Nato as SS-27s, are showcased every year during Russia's annual May 9 "Victory Parade" held on Red Square.
This year, Vladimir Putin, the Russian president, used the display of military might, which marks the Red Army's victory over the Nazis, to warn that Russia "would stand up for our positions in a determined way".
President Putin has been criticised by the EU over allegations of fraud surrounding elections in March that returned him to power for the third time, sparking street protests in central Moscow.
Two weeks ago, the EU condemned the jailing of three members of female Russian punk band, Pussy Riot, over an anti-Putin protest in the same Moscow cathedral that can be seen on the Aeroflot poster.
Martin Callanan MEP, the leader of European Conservatives, said the posters were "either a mistake or a piece of poorly disguised Putin propaganda".
"If Aeroflot did not intend to send a political message then they should withdraw the advert. If they were acting as a proxy for Putin then the EU should make it clear that it has no intention of being intimidated," he said.
Georgi Gotev, a Brussels blogger and former Bulgarian diplomat, described the posters, which are prominently displayed in the city's diplomatic quarter, as a "blunder" and has called on Aeroflot to remove them.
"Maybe this is more a political message, rather than tourism advertising?," he wrote on Blogactiv. "Like 'with Putin back in the Kremlin, this is the new Russia'?"
European Union and Nato officials are bemused by the advertising campaign which is concentrated in Metro stations frequented by many diplomats.
"It is a very strange picture to use. I wonder what Russia is trying to tell us?" said one diplomat.
Aeroflot officials and Russian diplomats in Brussels yesterday declined to comment on the posters.
Original article here.
We welcome your comments, but please comply with our
Comment Rules.
You must be registered and logged in to leave a comment. Comments will display your Username and location.
Log In »
Posted by

Nick from Bayville, NJ

on

Aug 28, 2012
I wonder if "Mad Men" came up with this marketing campaign?
Notable Quotables

"According to the mullahs in Tehran, we are 'the Great Satan,' lord of the underworld, master of the raging inferno. So, I might imagine they would take me seriously when I assure them today: If you cross us, our allies, or our partners; if you harm our citizens; if you continue to lie, cheat and deceive, yes, there will indeed be hell to pay."

~ US National Security Adviser John Bolton, in a keynote address at the United Against Nuclear Iran annual summit on Tuesday, after a top military official in Iran warned the US and Israel on Monday that there would be a "devastating" response to the parade attack (more here).