February 28, 2011
D-i-s-g-r-a-c-e
As British and German military planes secretly swooped into the Libyan desert to evacuate their citizens from chaotic Libya (see below), superpower America arranged for a broken down ferry boat to ferry its citizens out. European citizens were flown out post-haste, whereas American citizens endured days of agonizing delays on a ferry.
What's wrong with this picture?
Could it be that our planes were otherwise occupied, flying Secretary of State Hillary Clinton to Geneva to confer with the UN [Abusers of] Human Rights Commission? Or maybe taking our UN ambassador, Susan Rice to sunny Cape Town, South Africa, to take tea with fellow diplonuts following a week of intense Israel-bashing at the UN, as the Arab Middle East was imploding?
Disgraceful.


CNN World | February 27, 2011
European Governments Send Rescue Missions To Libyan Desert
By CNN Wire Staff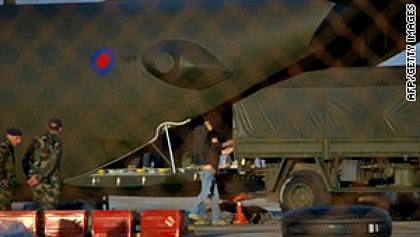 Officials unload supplies from a RAF Hercules in Malta. British and German
military planes have rescued hundreds of civilians in remote sites in Libya.
British Prime Minister David Cameron says a military-led rescue mission into the Libyan desert was "the right thing to do," despite the fact that UK planes didn't have permission to enter Libyan airspace.
Three Royal Air Force C-130 Hercules aircraft successfully evacuated some 150 civilians of multiple nationalities from eastern Libya, according to a statement from the Foreign and Commonwealth Office (FCO). The civilians were retrieved from multiple locations in the desert south of Benghazi, said Liam Fox, the secretary of state for defense. Another 150 civilians were flown out by British forces in similar missions mounted Saturday, according to previous statements from the FCO.
One plane was hit by small arms fire when it tried to land at an airstrip, according to a press officer with the Ministry of Defence, but the damage was superficial, and the plane was able to continue. All three aircraft have arrived in Malta, the officer said.
At a news conference Sunday, Cameron celebrated the successful return of the three C-130s. "Good work has been done today," he said. "I pay tribute to the very brave pilots and armed services personnel who've managed to help so many British citizens back to safety."
When questioned about the lack of permission for British craft to enter the skies over Libya, Cameron said, "Well, it is risky and difficult, but I judged it was the right thing to do." The number of British citizens working on oil platforms in the eastern desert area meant the government had to take action to "get those people home," he said.
The willingness to send military aircraft into Libyan airspace without permission could indicate that Western governments are growing increasingly impatient with leader Moammar Gadhafi, according to John Pike, the Director of GlobalSecurity.org, an independent provider of security information.
"I think all governments that had nationals in the country have had to walk a line. Now, the attitude is more 'let's get this over with,'" Pike told CNN, adding that he expected the rhetoric coming from Western governments to be more "forward-leaning about the urgency of Gadhafi's exit."
The U.S. government has issued stronger calls for Gadhafi to step down "now that American citizens appear to be out of the country," said Pike.
The UK wasn't the only Western government that sent aircraft this weekend to rescue its citizens.
Two German Air Force planes evacuated some 132 people -- dozens of the European Union citizens - from the Libyan desert Saturday, in a secret mission conducted by the military, according to a statement on the German Foreign Ministry's web page. Foreign Minister Guido Westerwelle thanked the German military for "decisive action," the ministry said, and expressed relief that the missions were successful.
Original article here.
We welcome your comments, but please comply with our
Comment Rules.
You must be registered and logged in to leave a comment. Comments will display your Username and location.
Log In »
Notable Quotables

"There's much to be thankful for about how things ended last week in Texas, and about the outpouring of love and support, across faiths, for a little Jewish community. But the wise counsel for Jews is to be grateful for last week's good luck, while taking it as a warning that our luck in America may run out."

~  Bret Stephens, prolific journalist, author and op-ed writer, in "What an Antisemite's Fantasy Says About Jewish Reality" (more here).