Archives

AND MORE...


A Ceasefire...Maybe
_____________________


Afghanistan Redux On Syrian Border?
_____________________


The Muddle East
_____________________


Arming Enemies; Betraying Allies
_____________________
June 14, 2018
A Truly Cockamamie Idea
Remember those so-called "de-confliction zones" in Syria, which Russia and the U.S. set up pursuant to their cease-fire agreement? Those were zones where Iran could 'not set up shop', as opposed to other areas throughout Syria.
Well, one of the two de-confliction zones set up included the Israeli and Jordanian border regions in Daraa and Quneitra.
But these "de-confliction zones" were as cockamamie an idea as the so-called "Iran Deal", because like the Iran Deal, there is absolutely nothing to stop the Iranians from ignoring these de-confliction zones and doing whatever they want in Syria, either directly or via proxies (e.g., Hezbollah).
"A major battle against the rebels along the Israeli and Jordanian border seems unavoidable," writes Yochanan Visse (see piece below).
Indeed, if not now then sometime in the very near future. And you can be sure that Iran/Hezbollah will be involved in this battle and use it as an excuse to fortify their positions along the border with Israel.
So Gen. Joseph Dunford, Chairman of the Joint Chiefs of Staff of the US military, and Russia's chief of the military's General Staff, Gen. Valery Gerasimov can conduct never-ending meetings about the situation in the de-confliction zones and analyze ad nauseum why these zones have failed to produce concrete results.
But the bottom line is that from the get-go, the US should NEVER have agreed to Iran's presence in Syria, for as cockamamie ideas go, that has got to be one of the cockamamiest!
Israel National News  |  June 14, 2018
ANALYSIS: Winds Of War As Iran Axis Prepares For Golan Offensive
A major battle against the rebels along the Israeli and Jordanian border seems unavoidable.
By Yochanan Visse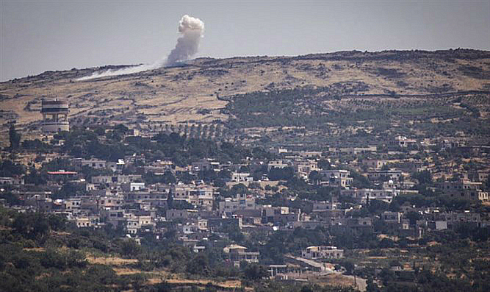 Fighting near Druze town of Hader in Golan.                                                          FLASH90
On Sunday, the Israeli military launched a massive surprise drill in the Golan Heights involving a large number of reservists who were ordered to report for immediate duty and to show up in full gear.
In a statement, the IDF claimed the exercise had nothing to do "with current events" and was planned "in advance as part of the 2018 training schedule," while the army warned residents of the mountainous plateau they could expect hearing "loud explosions" and "increasing traffic of vehicles."
The statement was most likely meant to reduce tensions in the region and to prevent further escalation toward war after the Iranian-backed pro-Assad coalition started to prepare for a large-scale offensive against the various rebel groups in the border area with Jordan and Israel.
The final preparations for the offensive in southern Syria started after talks between Gen. Joseph Dunford, chairman of the Joint Chiefs of Staff of the US army, and Russia's chief of the military's General Staff, Gen. Valery Gerasimov, about the situation in the so-called de-confliction zones reportedly failed to produce concrete results.
Dunford and Gerasimov met in the Finnish capital Helsinki where they tried to "avoid miscalculation and to promote transparency and de-confliction in areas," a U.S. statement said without further elaboration.
The Israeli and Jordanian border regions in Daraa and Quneitra are one of the two de-confliction zones in Syria.
On Monday the Atlantic Council's Digital Forensic Research Lab (ACDFRL) reported that the so-called Al Gaith division of the Syrian armed forces had already captured the city of Baath on the Syrian Golan Heights and were now less than two kilometers away from the Israeli border.
ACDFRL published images of Syrian soldiers in Baath who were preparing for an offensive against mainly Islamist rebel groups in the Kuneitra province as well as photos from a large military parade held by the Free Syrian Army in Bosra al-Sham in the Daraa province.
"As forces mass on both sides, large scale fighting seems inevitable in upcoming days," according to Forensic Research Lab which also warned the offensive could prompt Israeli strikes.
Later on Monday, local media reported attacks on "militants" in the Eastern Daraa country side and a deadly offensive against Islamic State hubs in the al-Suweida province east of Daraa, which is home to a large Druse minority in Syria.
At the same time it became clear Iran and Syrian dictator Bashar al-Assad were playing their favourite deceit game with Israel and Western powers such as France.
After Assad last month said there were no Iranian troops in Syria, he now says Iran's presence in the country is non-negotiable.
During an interview with Al-Alam TV in Iran, the Syrian dictator also said "he would not object to the establishment of a permanent Iranian military base within his country's borders if such a base is necessary."
Iran's president Hassan Rouhani, meanwhile, indulged in double speak about Iran's activities in Syria.
Rouhani told French president Emmanuel Macron on Tuesday he didn't rule out an Iranian withdrawal from Syria once the "roots of terrorism" are destroyed.
At the same time, the Iranian president defended Iran's growing presence in Syria and said the presence of the Quds Force of the Iranian Revolutionary Guards Corps in Syria "is quite legal and based on the official request of the Syrian government with an aim of fighting terrorism."
Rouhani and Assad were subsequently exposed as liars by the head of IDF Intelligence Directorate Maj.-Gen. Tamir Heyman, who told a closed forum of international security experts on Wednesday that Iran's 'counter-terrorism' excuse for setting up bases throughout Syria is a hoax.
Heyman showed the experts a map with Iranian bases in Syria which are all built in 'liberated' areas where there is no longer any military threat to the Syrian regime.
"You probably think it's because they are trying to help the Assad regime fight extremists, fight terror. Well, get ready for a surprise: In all these places on the map there has been no fighting going on for half a month," Heyman was quoted as saying by Israeli broadcaster Kan.
The Israeli military, meanwhile, not only held a surprise drill on the Golan Heights, but also continued its attacks on Iranian related targets in Syria.
On Tuesday, Sky News Arabic reported new IAF strikes on Hezbollah positions and weapon depots in the Qalamoun Mountains near the Lebanese border.
A major battle between the rebels and Iranian backed forces along the Israeli and Jordanian border seems unavoidable after commanders of the various anti-Assad militias rejected a Russian proposal to start 'peace talks'.
The pro-Assad coalition has now issued a 48-hour-long ultimatum to the rebel groups about the peace talks, but chances are slim they will give in since most of them are hard-core Islamist or even Jihadist movements who prefer to confront the army of their foe and fight to the death.
The imminent large-scale offensive will first be aimed at the liberation of the so-called Death Triangle which connects Daraa and Quneitra with west Damascus and will reportedly include the involvement of Iranian backed militias such as Hezbollah.
The Iranians deceived Russia and other international players by sending their proxy Hezbollah back to the border region disguised as Syrian army soldiers after an initial withdrawal, the Wall Street Journal reported last week.
"They are leaving … in their Hezbollah uniforms and they are returning in regime vehicles and dressed in regular [Syrian] army uniforms," Ahmad Azam a commander of a rebel group in Quneitra told the American paper.
The Lebanese terror group also refuses to concede to the Russian request to vacate a number of bases in southwest Syria.
All this is known to the Israeli military, an unnamed Israeli official told WSJ.
"You can be sure that Israel is very much aware of basically everything happening in our backyard," the official said.
Yochanan Visser is an independent journalist/analyst who worked for many years as Middle East correspondent for Western Journalism.com in Arizona and was a frequent publicist for the main Dutch paper De Volkskrant. He authored a book in the Dutch language about the cognitive war against Israel and now lives in Gush Etzion. He writes a twice weekly analysis of current issues for Arutz Sheva.
Original article here.
We welcome your comments, but please comply with our
Comment Rules.
You must be registered and logged in to leave a comment. Comments will display your Username and location.
Log In »
Notable Quotables

"Here, in the United States, we are alarmed by new calls to adopt socialism in our country. America was founded on liberty and independence -- not government coercion, domination and control. We are born free, and we will stay free. Tonight, we renew our resolve that America will never be a socialist country."

~ President Donald Trump, in his State of the Union address on February 5, 2019 (more here).