Straight-Talk
July 12, 2017
You gotta love the New York Post. Its covers (aka front pages) and headlines are things we might think, but not say aloud in polite company.
Comrade Bill de Blasio's recent trip to Hamburg, Germany – the day after an NYPD officer and mother of three was assassinated – to join "protestors" (aka Anarchists and Leftists) wreaking havoc at the G-20, has angered many New Yorkers and people throughout the country.
Below are the New York Post cover pages from the last few days: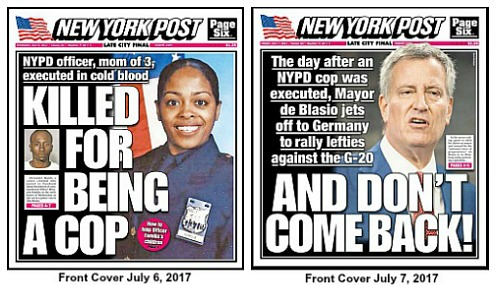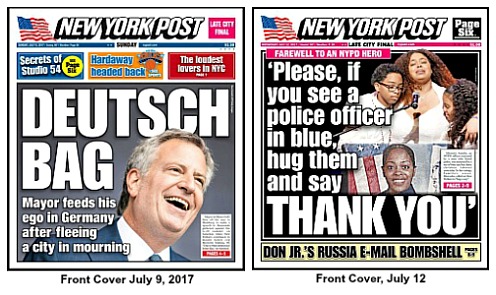 Notable Quotables

"Don't threaten us with cutting off your aid. It will not work. I am not a Jew with trembling knees. I am a proud Jew with 3,700 years of civilized history. Nobody came to our aid when we were dying in the gas chambers and ovens. Nobody came to our aid when we were striving to create our country. We paid for it. We fought for it. We died for it. We will stand by our principles. We will defend them. And, when necessary, we will die for them again, with or without your aid."

~  Israeli PM Menachem Begin, in June 1982 at height of Lebanon War, responding to then Senator Joe Biden in front of Senate Foreign Relations Committee, after Biden had attacked Israeli settlements in Judea and Samaria and threatened to cut economic aid to Israel (more here).