Straight-Talk
July 12, 2017
You gotta love the New York Post. Its covers (aka front pages) and headlines are things we might think, but not say aloud in polite company.
Comrade Bill de Blasio's recent trip to Hamburg, Germany – the day after an NYPD officer and mother of three was assassinated – to join "protestors" (aka Anarchists and Leftists) wreaking havoc at the G-20, has angered many New Yorkers and people throughout the country.
Below are the New York Post cover pages from the last few days: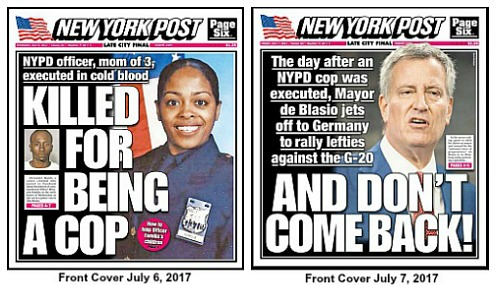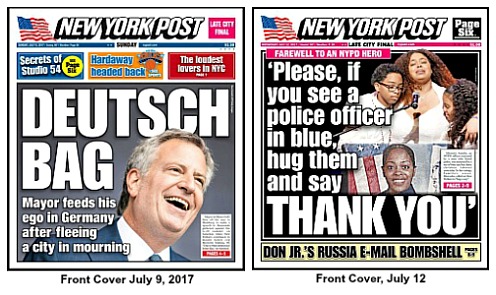 Notable Quotables

"It was the Palestinian mob that prevented Abu Akleh's funeral from progressing to the church by hearse as the family had wanted. It was the mob that took the body without authorization, which forced Israeli Police to intervene with force to have them return the body to the hospital. Once returned, the body was transported to the church in the hearse under Israeli protection according to plan."

~  Itamar Marcus, Founder and Director of Palestinian Media Watch, on the hijacking of Shireen Abu Akleh's funeral (more here).