Straight-Talk
July 12, 2017
You gotta love the New York Post. Its covers (aka front pages) and headlines are things we might think, but not say aloud in polite company.
Comrade Bill de Blasio's recent trip to Hamburg, Germany – the day after an NYPD officer and mother of three was assassinated – to join "protestors" (aka Anarchists and Leftists) wreaking havoc at the G-20, has angered many New Yorkers and people throughout the country.
Below are the New York Post cover pages from the last few days: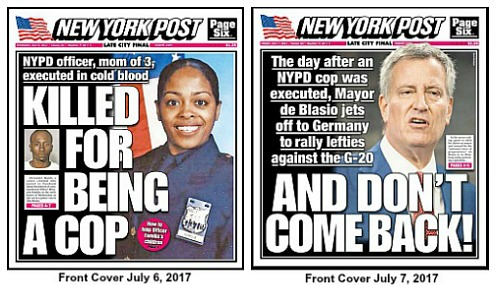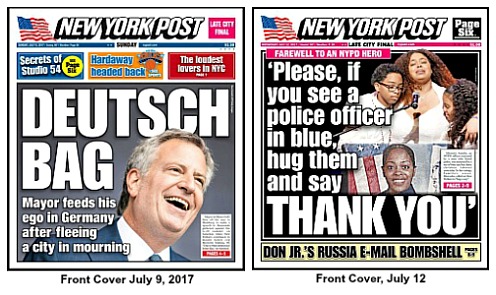 Notable Quotables

"[Rashida] Tlaib and her antisemitic colleagues are successfully seizing control over the Democratic Party because their fake history, fake facts, and fake news about Jews jibe with the general progressive preference for ideological purity over objective reality; and for revolutionary goals and victim narratives over truth, norms, and law."

~ Caroline Glick, world-renowned journalist, on why Democratic congressional leaders are rushing to defend Rep. Rashida Tlaib (D-MI) for inventing a bigoted, alternative, antisemitic history of the Holocaust (more here).