Straight-Talk
November 19, 2008
While sooo many words come to mind when viewing the picture below, suffice it to say, it is truly a fitting and well-deserved tribute to a vital institution, i.e., the U.N.
It is also a great reminder of where American taxpayer money (which supports this oh-so-stellar institution), ultimately ends up.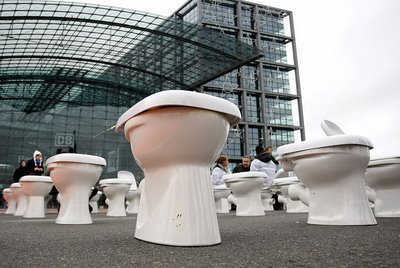 Spiegel Online: Wednesday, Nov. 19 is "World Toilet Day" and Berlin
marked the occassion by placing 50 toilets outside its Central Station. The
United Nations declared 2008 the "International Year of Sanitation" in order
to draw attention to public health issues around the world. The average
person in the West goes to the toilet between six and eight times a day, but
around the world 2.5 billion people live without adequate sanitation, according
to figures from the World Health Organization. AP
[Posted by R.S.]

Notable Quotables

"The damage to the reputation of the United States is indescribable. We are now seen, and will be seen for many years, as an unreliable partner in any multinational agreement or operation. Trust in the United States is irreparably damaged."

~  From Open Letter penned three days ago, by nearly 90 retired US generals and admirals to Sec of Defense Lloyd Austin and Chairman of Joint Chiefs of Staff Gen Mark Milley, calling on them to resign from their positions over their handling of US withdrawal from Afghanistan (more here).