Straight-Talk
November 19, 2008
While sooo many words come to mind when viewing the picture below, suffice it to say, it is truly a fitting and well-deserved tribute to a vital institution, i.e., the U.N.
It is also a great reminder of where American taxpayer money (which supports this oh-so-stellar institution), ultimately ends up.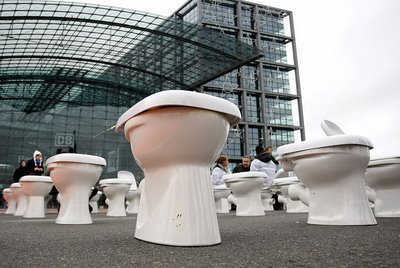 Spiegel Online: Wednesday, Nov. 19 is "World Toilet Day" and Berlin
marked the occassion by placing 50 toilets outside its Central Station. The
United Nations declared 2008 the "International Year of Sanitation" in order
to draw attention to public health issues around the world. The average
person in the West goes to the toilet between six and eight times a day, but
around the world 2.5 billion people live without adequate sanitation, according
to figures from the World Health Organization. AP
[Posted by R.S.]

Notable Quotables

"According to the mullahs in Tehran, we are 'the Great Satan,' lord of the underworld, master of the raging inferno. So, I might imagine they would take me seriously when I assure them today: If you cross us, our allies, or our partners; if you harm our citizens; if you continue to lie, cheat and deceive, yes, there will indeed be hell to pay."

~ US National Security Adviser John Bolton, in a keynote address at the United Against Nuclear Iran annual summit on Tuesday, after a top military official in Iran warned the US and Israel on Monday that there would be a "devastating" response to the parade attack (more here).