Straight-Talk
August 25, 2015
Writing at Gatestone, Khaled Abu Toameh asks the question "What Are Palestinians Doing With U.S. Money?", concluding: "One does not have to be an expert on Palestinian affairs to see that the billions of dollars have neither created democracy for the Palestinians nor boosted the Israeli-Palestinian peace process."
During the past 20 years, the U.S. has invested $4.5 billion in promoting democracy among the Palestinians in the West Bank and Gaza Strip and boosting the Israeli-Palestinian peace process.
This is what Palestinian Prime Minister Rami Hamdallah revealed during a meeting in Ramallah this week with Congressman Kevin McCarthy, Majority Leader of the U.S. House of Representatives. Hamdallah said that the money was also invested in projects in various Palestinian sectors.
The $4.5 billion that Hamdallah talked about does not include the billions of dollars poured on the Palestinian Authority (PA) since its creation in 1994. Palestinian economic analysts estimate that the PA has received a total of $25 billion in financial aid from the U.S. and other countries during the past two decades.
One of the "projects" financed by US donations may very well be Abbas's new Presidential Guest Palace. Now serving the 11th year of his 4 year term, Abbas is building himself a facility fit for a king: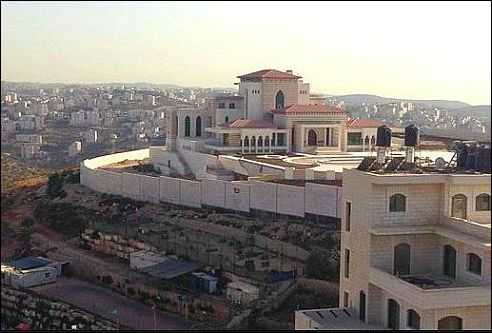 The Presidential Guest Palace in Surda, Ramallah
_______________________________________________________________
$13 million dollars is budgeted for the project, which includes 2 helipads: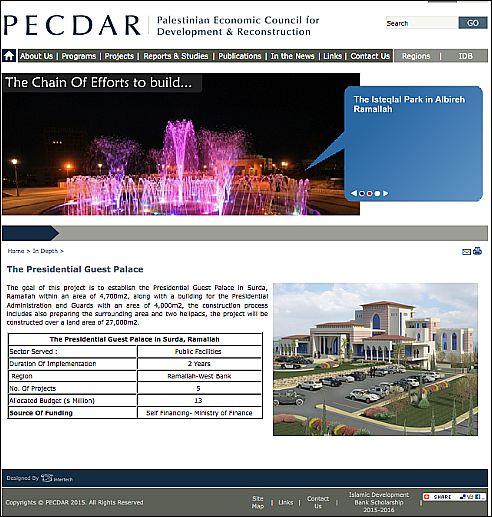 h/t Pro-Israel Bay Bloggers (here).

Notable Quotables

"According to the mullahs in Tehran, we are 'the Great Satan,' lord of the underworld, master of the raging inferno. So, I might imagine they would take me seriously when I assure them today: If you cross us, our allies, or our partners; if you harm our citizens; if you continue to lie, cheat and deceive, yes, there will indeed be hell to pay."

~ US National Security Adviser John Bolton, in a keynote address at the United Against Nuclear Iran annual summit on Tuesday, after a top military official in Iran warned the US and Israel on Monday that there would be a "devastating" response to the parade attack (more here).