Straight-Talk
December 20, 2006
Yep...history does indeed repeat itself.
Here's a little reminder:
December 7, 2006
The front page of today's NY Post (see below). A true classic!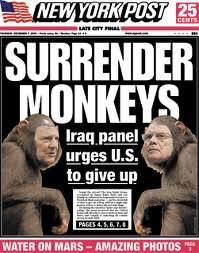 [

Posted by R.S.]
Notable Quotables

An ancient Mikveh (Jewish ritual bath) dated to the time of the second temple was unveiled in Jerusalem during archaeological excavating near the Western Wall. 

~  Michal Hever, Hebrew University. On Twitter.