Straight-Talk
July 22, 2008
Read these:
Then read these:
And then decide:
Should Israel respond to Condi Rice, James Jones and the U.S. State Department the same way Ambassador John Bolton responded last night in an interview regarding the New York Times' refusal to publish a McCain op-ed, i.e., "If they'd have come back to me with that kind of comment, I'd have said stick it in your ear..." (more here)???
July 18, 2008
Below is a picture worth 6 million words (and counting...):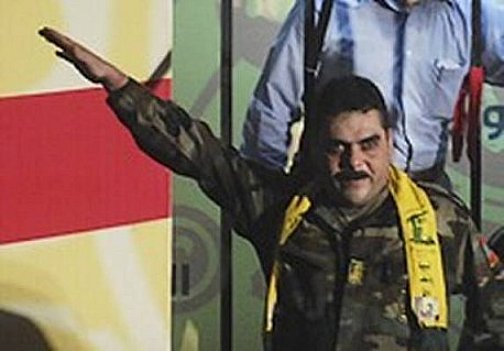 Convicted terrorist Samir Kuntar on Wednesday vowed to continue his 'resistance' against Israel, speaking at a Beirut rally welcoming his return and that of four Hezbollah men Israel released as
part of a [Killers-for-Bones] swap deal with the Lebanon-based guerilla group, in which Israel
received the bodies [i.e., bones] of two Israeli soldiers kidnapped by Hezbollah guerillas in a cross-border raid that sparked the 2006 war. [More here]
So who is Samir Kuntar? Kuntar is the guy who smashed the skull of a 4-year-old Israeli girl after shooting her father in front of her very eyes.
In the dead of night on April 22, 1979, Kuntar and three other gunmen made their way in a rubber dinghy from Lebanon to the sleepy Israeli coastal town of Nahariya, five miles south of the border.
There, they killed a policeman who stumbled upon them, then burst into the apartment of Danny Haran, herding him and his 4-year-old daughter out of the house at gunpoint to the beach below, where they were killed.
The attack is seared in Israel's collective consciousness because witnesses recounted that Kuntar shot Danny Haran in front of his child, then killed her by smashing her skull against a rock with his rifle butt.
Haran's wife, Smadar, who had fled into a crawl space in the family apartment with her 2-year-old daughter, accidentally smothered the child with her hand while trying to stifle her cries.
[Posted by R.S.]

Notable Quotables

"There's much to be thankful for about how things ended last week in Texas, and about the outpouring of love and support, across faiths, for a little Jewish community. But the wise counsel for Jews is to be grateful for last week's good luck, while taking it as a warning that our luck in America may run out."

~  Bret Stephens, prolific journalist, author and op-ed writer, in "What an Antisemite's Fantasy Says About Jewish Reality" (more here).