Straight-Talk
December 20, 2006
Yep...history does indeed repeat itself.
Here's a little reminder:
December 7, 2006
The front page of today's NY Post (see below). A true classic!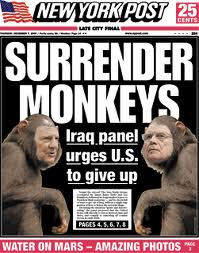 [

Posted by R.S.]
Notable Quotables

"As I have said many times, the Iran deal was one of the worst and most one-sided transactions the United States has ever entered into."

~ President Trump, during a speech at the White House on Friday, where he announced he would not recertify the Iran deal (more here).