Straight-Talk
December 20, 2006
Yep...history does indeed repeat itself.
Here's a little reminder:
December 7, 2006
The front page of today's NY Post (see below). A true classic!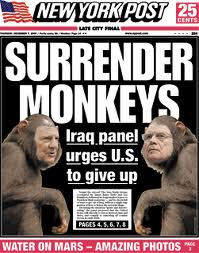 [

Posted by R.S.]
Notable Quotables

"When you start wiping out your history; sanitizing your history to make you feel better? It's a bad thing."

~ Former Secretary of State Condoleezza Rice, on removing Civil War monuments (more here).