Straight-Talk
December 20, 2006
Yep...history does indeed repeat itself.
Here's a little reminder:
December 7, 2006
The front page of today's NY Post (see below). A true classic!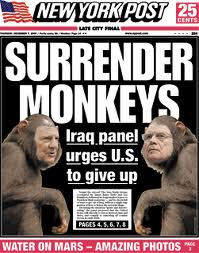 [

Posted by R.S.]
Notable Quotables

"The Russians are stuck [in Syria] at the moment. And I don't think they want to be stuck there. I think their frenetic diplomatic activity in Europe indicates that they'd like to find somebody else, for example, to bear the cost of reconstructing Syria - which they may or may not succeed in doing."

~ U.S. National Security Adviser John Bolton, while on a three-day visit to Israel, where he spoke with officials ahead of a meeting with his Russian counterpart in Geneva (more here).