Hon. R. James Woolsey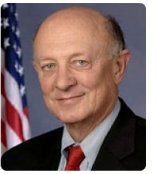 R. James Woolsey, former Director of the Central Intelligence Agency, served in the U.S. Government on five different occasions, where he held Presidential appointments in two Republican and two Democratic administrations.
During his years of government service, in addition to heading the C.I.A (1993-1995), Mr. Woolsey was Ambassador to the Negotiation on Conventional Armed Forces in Europe (CFE), Vienna (1989-1991), Under Secretary of the Navy (1977-1979) and General Counsel to the U.S. Senate Committee on Armed Services (1970-1973). He was also appointed by the President as Delegate at Large to the U.S.–Soviet Strategic Arms Reduction Talks (START) and Nuclear and Space Arms Talks (NST), and served in that capacity on a part-time basis in Geneva, Switzerland (1983-1986). As an officer in the U.S. Army, he was an adviser on the U.S. Delegation to the Strategic Arms Limitation Talks (SALT I), Helsinki and Vienna (1969-1970). Mr. Woolsey was a Vice President and partner at Booz Allen Hamilton (2002-2008), and a Venture Partner with VantagePoint Venture Partners of San Bruno, California (until January 2011). Previously, he was a partner at the law firm of Shea & Gardner in Washington, DC, now Goodwin Procter, where he practiced for 22 years in the fields of civil litigation, arbitration, and mediation.
Mr. Woolsey is currently a Venture Partner at Lux Capital Management; as well as a Managing Director and Chairman of the Strategic Advisory Group of Paladin Capital Group; and Of Counsel to the Washington, DC office of the Boston-based Goodwin Procter law firm. In these capacities, Mr. Woolsey specializes in a range of alternative energy and security issues.
Mr. Woolsey serves on a range of government, corporate, and non-profit advisory boards and chairs several, including that of the Washington firm, ExecutiveAction LLC. He serves on the National Commission on Energy Policy and is Co-Chairman of the Committee on the Present Danger, as well as Chairman of the Advisory Boards of the Clean Fuels Foundation and the New Uses Council, and a Trustee of the Center for Strategic & Budgetary Assessments. Previously, Mr. Woolsey served as Chairman of the Executive Committee of the Board of Regents of The Smithsonian Institution, and as a trustee of Stanford University. He was also a member of The National Commission on Terrorism, 1999–2000; The Commission to Assess the Ballistic Missile Threat to the U.S. (Rumsfeld Commission), 1998; The President's Commission on Federal Ethics Law Reform, 1989; The President's Blue Ribbon Commission on Defense Management (Packard Commission), 1985–1986; and The President's Commission on Strategic Forces (Scowcroft Commission), 1983.
Notable Quotables

"There's much to be thankful for about how things ended last week in Texas, and about the outpouring of love and support, across faiths, for a little Jewish community. But the wise counsel for Jews is to be grateful for last week's good luck, while taking it as a warning that our luck in America may run out."

~  Bret Stephens, prolific journalist, author and op-ed writer, in "What an Antisemite's Fantasy Says About Jewish Reality" (more here).