Andrew C. McCarthy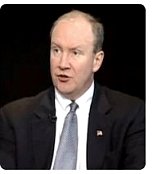 Andrew C. McCarthy served for 18 years as Assistant United States Attorney for the Southern District of New York, leading the Justice Department team that prosecuted the notorious Sheik Omar Abdel Rahman (aka the "Blind Sheik") and other jihadists, in the wake of the 1993 World Trade Center bombing and a plot to bomb New York City landmarks.
Following the 9/11 attacks, McCarthy supervised the United States Attorney's Anti-Terrorism Command Post in New York City, coordinating investigative and preventive efforts with numerous federal and state law enforcement and intelligence agencies. From 1999 through 2003, he was Chief Assistant United States Attorney for the Southern District's satellite office, responsible for federal law enforcement in six counties north of New York City. his years of service, McCarthy was also involved in prosecutions against those responsible for the 1998 U.S. embassy bombings in Kenya and Tanzania, and the 2000 Millennium plot to attack Los Angeles International Airport. He is the recipient of numerous awards, including the Justice Department's highest honors: the Attorney General's Exceptional Service Award (1996) and Distinguished Service Award (1988).
In 2004, McCarthy served at the Pentagon as a Special Assistant to the Deputy Secretary of Defense. He's been an Adjunct Professor at both Fordham University's School of Law and New York Law School, and a Deputy U.S. Marshal in the Federal Witness Protection Program.
One of America's most persuasive voices on national security issues, McCarthy is a contributing editor at National Review; writes extensively on a variety of legal, social and political issues for publications such as The Wall Street Journal, Commentary, The New Criterion, The Weekly Standard, USA Today and many others; and is a frequent commentator on national television and nationally syndicated radio shows. He is the author of two national bestsellers, i.e., Willful Blindness: A Memoir of the Jihad (Encounter Books, 2008), and The Grand Jihad (Encounter Books, 2010).
Notable Quotables

"According to the mullahs in Tehran, we are 'the Great Satan,' lord of the underworld, master of the raging inferno. So, I might imagine they would take me seriously when I assure them today: If you cross us, our allies, or our partners; if you harm our citizens; if you continue to lie, cheat and deceive, yes, there will indeed be hell to pay."

~ US National Security Adviser John Bolton, in a keynote address at the United Against Nuclear Iran annual summit on Tuesday, after a top military official in Iran warned the US and Israel on Monday that there would be a "devastating" response to the parade attack (more here).