Commander Kirk S. Lippold, USN (ret)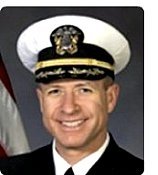 Cmdr. Kirk S. Lippold, U.S. Navy (ret) was Commanding Officer of the USS Cole when it came under attack by al-Qaeda suicide bombers on October 12, 2000, in the port of Aden, Yemen. During his command, he and his crew distinguished themselves by saving the guided missile destroyer from sinking. The attack on the USS Cole was one of the most brazen acts of terrorism by al Qaeda prior to September 11, 2001, and one of the seminal events of the war on terror.
Prior to assuming command of the USS Cole, Cmdr. Lippold served as: Executive Officer of the USS Shiloh, an Aegis-class guided missile cruiser; Operations Officer on the commissioning crew of the USS Arleigh Burke; and Division Officer aboard the USS Yorktown, an Aegis-class guided missile cruiser, where he completed a seven and half month deployment to the Mediterranean, and participated in the Achille Lauro aircraft seizure, Black Sea Freedom of Navigation operations against the Soviet Union, and Attain III combat operations in the Gulf of Sidra off of Libya, which followed several Libyan sponsored terrorist attacks in Europe.
Cmdr. Lippold also served as Division Officer aboard the USS Fairfax County, where he completed deployments to Beirut in support of the U.S. Marine Corps and the Multinational Peacekeeping Force. It was during this deployment that the American Embassy was attacked and severely damaged. His second deployment was as part of the UNITAS XXV, which circumnavigated South America and included operations off the west coast of Africa. Cmdr. Lippold also previously served as Administrative Aide to Secretary of the Navy John Dalton, as well as Secretary of the Navy Richard Danzig, and as Deputy Division Chief and Politico-Military Planner, Joint Chiefs of Staff, Directorate for Strategic Plans and Policy, where he was instrumental in crafting detainee policy for the War on Terror during its initial stages, following the 9/11 attacks. His most recent assignment, prior to his retirement in May 2007, was as Section Chief for Regional Affairs, International Strategy Division in the Office of the Chief of Naval Operations.
A graduate of the U.S. Naval Academy, Cmdr. Lippold received his commission in the Navy in 1981. He attended the Navy Postgraduate School from 1987 to 1989, where he received a Masters of Science in Systems Engineering (Joint Command, Control and Communications) with a subspecialty in International Strategy. He is also a 1994 graduate of the U.S. Army Command & General Staff College, and a 2001 graduate of the Joint Forces Staff College. Cmdr. Lippold is the recipient of numerous military awards and medals. He is currently the President of the consulting firm, Base to Peak, LLC.
Notable Quotables

An ancient Mikveh (Jewish ritual bath) dated to the time of the second temple was unveiled in Jerusalem during archaeological excavating near the Western Wall. 

~  Michal Hever, Hebrew University. On Twitter.