Ambassador John R. Bolton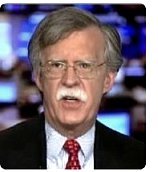 A distinguished diplomat and lawyer, Ambassador John R. Bolton spent many years in public service. As a veteran of three Administrations and a nominee for the 2006 Nobel Peace Prize, Ambassador Bolton served as U.S. Ambassador to the United Nations from August 1, 2005 to December 9, 2006.
Prior to that, Ambassador Bolton served as Under Secretary of State for Arms Control and International Security (2001-2005); Assistant Secretary for International Organization Affairs at the Department of State (1989-1993); Assistant Attorney General at the Department of Justice (1985-1989); Assistant Administrator for Program and Policy Coordination at the U.S. Agency for International Development (1982-1983); and General Counsel at the U.S. Agency for International Development (1981-1982).
Before entering public service, Ambassador Bolton was a partner at the law firm of Covington & Burling in Washington DC. He graduated Phi Beta Kappa, summa cum laude from Yale College (1970), and received his J.D. from Yale Law School (1974), where he was editor of the Yale Law Journal.
Ambassador Bolton currently serves as a Senior Fellow at the American Enterprise Institute, and Counsel to the law firm of Kirkland & Ellis. He is a frequent contributor to major publications, e.g., The Wall Street Journal, Britain's Daily Telegraph, The Financial Times, The Washington Post, The New York Post, The Jerusalem Post and numerous others, and is a frequent guest/contributor on national and international television networks, e.g., CNN, FOX News, BBC and others.
Notable Quotables

"According to the mullahs in Tehran, we are 'the Great Satan,' lord of the underworld, master of the raging inferno. So, I might imagine they would take me seriously when I assure them today: If you cross us, our allies, or our partners; if you harm our citizens; if you continue to lie, cheat and deceive, yes, there will indeed be hell to pay."

~ US National Security Adviser John Bolton, in a keynote address at the United Against Nuclear Iran annual summit on Tuesday, after a top military official in Iran warned the US and Israel on Monday that there would be a "devastating" response to the parade attack (more here).