Lt. General Thomas G. McInerney, USAF (ret)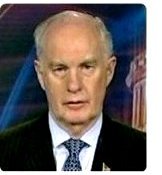 After a military career spanning 35 years, as a pilot, commander and strategic planner in the United States Air Force, Lt. General Thomas G. McInerney, USAF, retired
from active military service in 1994 as Asst. Vice Chief of Staff of the United States Air Force, and Director of the Defense Performance Review (DPR), reporting to the Secretary of Defense. General McInerney led the Pentagon's Reinventing Government effort, visiting more than 100 leading-edge commercial companies to assimilate their ideas about business re-engineering.
A command pilot with more than 4,500 flying hours, including combat missions, General McInerney served in numerous key Air Force assignments where he gained extensive military command and overseas experience. He completed four tours of duty in Vietnam, flight reconnaissance missions during the Cuban missile crisis and air escort missions in the Berlin Corridor. General McInerney is the recipient of numerous military awards and decorations.
Upon his retirement from the military, General McInerney joined Loral Defense Systems - Eagan (then Unisys Electronic Systems Division) as Vice President of Command and Control. From 1996-1999, he served as C.E.O. & President of BENS ("Business Executives for National Security"), a nonpartisan organization of business and professional leaders headquartered in Washington, DC. In January 2000, General McInerney founded Government Reform Through Technology (GRTT), a consulting firm that works with high-tech companies. GRTT conducts business with federal, state, city and local governments to help them introduce advanced technology into the public sector.
A respected military analyst, commentator and author, General McInerney is a FOX News Military Analyst, appearing regularly on the FOX News Channel as well as on other national television networks and nationally syndicated radio shows. He is a frequent contributor of articles to major publications such as The Wall Street Journal, Washington Post, Washington Times, Weekly Standard and others, and co-author of the book "Endgame: The Blueprint for Victory in the War on Terror."
Notable Quotables

"ISIL has been I think a galvanizing threat around the Sunni partners in the region. They view it as an existential threat to them. Saudi Arabia has an extensive border with Syria. The Jordanians are experiencing a destabilizing impact of over a million refugees from the Syrian conflict, and are profoundly concerned that ISIL, who has stated that their ambitions are not confined to Iraq and Syria, but rather to expand to the broader region."

~ Senior Administration Official, confusing the geography of the region while giving background info on a conference call on the same day President Obama told the nation that America is going back to war in Iraq (more here).