Captain Charles T. ("Chuck") Nash, USN (ret)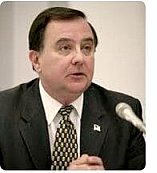 Captain Charles T. ("Chuck") Nash (ret) served for 25 years as an officer in the U.S. Navy, accumulating over 4,300 hours of flight time and 965 carrier landings on nine different aircraft carriers as a Naval Aviator. He served in a variety of command positions with Naval Operations at the Pentagon and U.S. Naval Forces Europe, including Head of the Strike/Anti-surface Unit Warfare and Air to Air/Strike Support sections on the staff of Chief of Naval Operations, Pentagon, Washington, DC; Executive Assistant to the Deputy Commander in Chief, US Naval Forces Europe, London, UK; Commanding Officer, Strike Fighter Squadron One Three Seven; and Operations Officer, Commander Carrier Airwing Thirteen. Captain Nash also served in shore based staff assignments and in temporary liaison billets with U.S. and Foreign conventional and Special Operations Forces ashore in Turkey, Northern Iraq, and other international areas.
Captain Nash is Founder and President of Emerging Technologies International Inc. (ETII), a company focused on understanding military requirements and searching out and identifying high leverage, emerging technologies that can be inserted quickly and inexpensively into tools for the U.S. military. Prior to founding ETII, he served as Vice President, Emerging Technologies Division, Santa Barbara Applied Research in Washington, DC. He currently holds a seat on several Boards of Directors, and is an adviser to corporate management teams.

Captain Nash is a Fox News Channel Contributor and Military Analyst, and also appears on the Fox Business Channel to discuss issues concerning POL/MIL, terrorism, aerospace/defense, and the impact of technology on the military. He frequently addresses the same subjects on Fox News Radio, the Radio America Network, and the Canadian Broadcasting flagship morning program "The Current." He has lectured at Georgetown University on U.S policy and military options for dealing with Iran and also at the George Mason University School of Business, discussing the challenges of introducing disruptive, emerging technologies into the marketplace.
Captain Nash earned a B.S. in Aeronautics from Parks College of Aeronautical Technology, St. Louis University (St. Louis University's Parks College of Engineering) and is a 1989 graduate of the National War College.

Notable Quotables

"Draft a will and designate appropriate insurance beneficiaries and/or power of attorney; discuss a plan with loved ones regarding care/custody of children, pets, property, belongings, non-liquid assets (collections, artwork, etc.), funeral wishes, etc."

~ Excerpt from US State Department's warning for Americans traveling to North Korea, as published on Wednesday (more here).