Archives

AND MORE...


"Pissing Away the War on Terror"
_____________________


BOHICA, America
_____________________


It Trickles Down
_____________________


Jihadis Over-Easy
_____________________


Groveling Is Not A Strategy
_____________________

June 7, 2013
Oops, Missed One
He's baaaack. No, not the dead one, but his second-in-command and current head honcho of al Qaeda Industries (see below).
Now, he's focusing on Syria and warning rebels "not to do the West's work by replacing President Assad with a moderate, democratic government," but rather an Islamic caliphate that would then wage all-out war with neighboring Israel. [Question for Mr. Zawahiri: A whole caliphate to wage war with Israel?!)
Didn't President Obama and his sidekick, VP Joe GM-is-alive-bin-laden-is dead Biden tell us al Qaeda was dead?
In fact, Mr. Obama told us recently the war on terror was over, yet it looks like the Moles in this game of Whack-A-Mole we've been playing for the past decade or two are still popping up.
So how do we (and the civilized world) win? Well, when was the last time the so-called civilized world won a war? How'd they do it? Just somethink to think about...
Telegraph.co.uk | June 6, 2013
Al-Qaeda Calls On Syrian Rebels To Build Anti-Western State
Al-Qaeda's high command staked its interest in the outcome of Syria's civil war yesterday as its leader, Ayman al-Zawahiri, called on jihadist fighters to build an anti-Western state after toppling Bashar al-Assad.
By Colin Freeman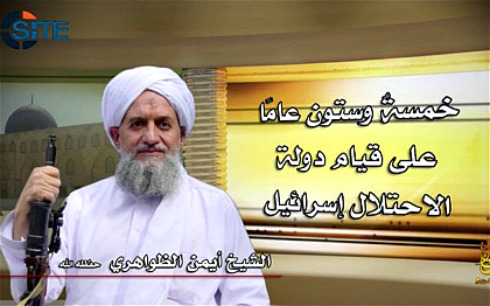 Ayman al-Zawahiri's comments were made in an audio broadcast timed to mark the 65th anniversary of Israel's creation. Photo: AFP/Courtesy: telegraph.co.uk
In remarks that underline how al-Qaeda now sees the Syrian conflict as its best political chance in years, Zawahiri warned rebel fighters not to do the West's work by replacing President Assad with a moderate, democratic government.
Instead, he called for the creation of an Islamic caliphate that would then wage all-out war with neighbouring Israel.
"America, its agents and allies want you to shed your blood and the blood of your children and women to bring down the criminal Ba'athist regime, and then set up a government loyal to them and to safeguard Israel's security," he said.
Zawahiri's comments, which raise the prospect of a three-sided war between secular moderates, Sunni extremists loyal to al-Qaeda, and the Shia regime of President Assad, were made in an audio broadcast timed to mark the 65th anniversary of Israel's creation.
It comes amid mounting Western concern about how al-Qaeda-linked factions are now dominant in the rebel frontlines, to which they bring both better weapons and battlefield experience honed in Iraq. Their principal organisation is the Al-Nusra Front, who pledged allegiance to Zawahiri in April.
As well as alarming secular rebel groups, who took up arms in the hope of achieving a multi-party democracy, the success of Nusra has shored up the remaining bedrock of support for Mr Assad, allowing him to portray himself as a champion against terror and fundamentalism.
While Zawahiri's message exhorted Syrians to "rise above sectarian affiliations", it also appealed directly to those same religious divisions, referring to the "criminal Alawite regime" of Mr Assad, whose faith is an offshoot of Shia Islam. Many fear that if his regime falls, his fellow Alawites will suffer reprisals at the hands of the Sunni Muslim majority, to which most of the rebels belong.
Zawahiri's declaration that he is playing close attention to events in Syria may sharpen divisions within the West over whether to arm the anti-Assad rebels, who are now showing signs of being pushed onto the back foot by Mr Assad's forces.
Britain and France now favour such a move, saying that arming only secular rebels will reduce the relative power of al-Qaeda-linked factions. But other nations say that in the chaos of civil war, any such weapons inevitably risk falling into the hands of jihadist groups.
Zawahiri's speech came as Syrian forces, backed by Hizbollah fighters from neighbouring Lebanon, celebrated capturing the strategic town of Qusayr from rebel fighters after a two-week long siege.
Syrian forces claimed yesterday to have deliberately opened exit routes from Qusayr to allow rebels to escape, rather than forcing a fight to the death in areas still populated by civilians. Around 1,000 wounded were said to be still in the town.
Meanwhile, rebel fighters were reported to have seized the only crossing point between Syria and Israel in the heavily-militarised Golan Heights region. The move prompted Austria to announce that it was withdrawing its 377 soldiers serving with the United Nations peacekeeping force in the Golan for safety reasons.
Israeli security sources added that the presence of unknown rebel groups at the crossing point at Quneitra could create potential flashpoints.
"Until now, the Quneitra crossing was Israel's only point of contact with Syria," an Israeli security source said. "Today this place has been taken over by people who we don't know, whose purpose we don't know."
In other developments, Russia warned Western nations not to use allegations of chemical weapons attacks as a pretext for foreign intervention in Syria.
"I do not rule out that somebody wants to use it to state that a red line has been crossed and a foreign intervention is necessary," said Sergei Lavrov, the Russian Foreign Minister.
Original article here.
We welcome your comments, but please comply with our
Comment Rules.
You must be registered and logged in to leave a comment. Comments will display your Username and location.
Log In »
Notable Quotables

"As I have said many times, the Iran deal was one of the worst and most one-sided transactions the United States has ever entered into."

~ President Trump, during a speech at the White House on Friday, where he announced he would not recertify the Iran deal (more here).