October 20, 2006
Closed Due To Feast
Ever visit that big building in New York that takes up acres and acres of prime real estate smack dab in the middle of Manhattan, in the area known as Turtle Bay?
Well, If you haven't, make sure you don't do it this coming Tuesday, because that big building in New York, NY, USA, known as Cesspool Central (aka the United Nations), will be CLOSED on Tuesday for the Muslim feast of Eid al-Fitr.
Think we're kidding? Check out the piece below and Happy Feasting, y'all!

The Washington Post | October 19, 2006
U.N. To Postpone Voting On Seat For Week
By Nick Wadhams, The Associated Press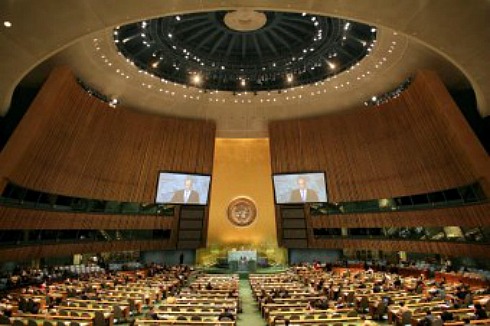 United Nations General Assembly in New York (photo credit: Michael Nagle/Getty Images; courtesy: wnd.com)

UNITED NATIONS -- The U.N. General Assembly will suspend voting over an open Latin American seat in the U.N. Security Council for a week to do other work and allow time to break a deadlock between the two countries bidding for the spot,
Guatemala and Venezuela , officials said Thursday. Guatemala has led Venezuela in 34 of 35 of the votes held since the start of Monday, but can't muster the necessary two-thirds majority in the 192-nation General Assembly to win the seat. Yet Venezuela refuses to withdraw, saying that to do so would be to cede victory to the United States, which has campaigned against it.
The Latin American and Caribbean Group is too divided to pick one of the many compromise candidates that have been suggested, including Costa Rica, Panama, the Dominican Republic, Uruguay, Mexico , Brazil and Chile.
"I think right now it's obvious we're at a stalemate," Guatemala's Foreign Minister Gert Rosenthal said. "Nothing has happened. The situation today is virtually the same as the first day of voting, meaning that very few countries are willing to move from one candidate to the other."
Rosenthal said he would be content to hold one vote a day, as opposed to the dozen or so that took place on Monday, Tuesday and Thursday. He suggested that Guatemala would be willing to step down in favor of a compromise candidate, but only if Venezuela steps down too.
The General Assembly will resume the voting on Wednesday, U.N. General Assembly President Sheikha Haya Rashed Al Khalifa said. That's because the body has other work to do on Friday and Monday, and the United Nations is closed Tuesday for the Muslim feast of Eid al-Fitr.
With the 36th round of voting next week, the selection process will beat the record for the third-highest number of rounds of voting held to fill a council seat. In 1956, Yugoslavia beat the Philippines in the 35th round.
The record number is 155 rounds of voting, set in 1980. The General Assembly gave up on Cuba and Colombia after 154 rounds, and chose Mexico on the 155th, in early January of that year.
The second highest number of votes was 52, set in 1960. After that, the General Assembly agreed to allow Poland and Turkey to serve on the council for one year each.
The United States has repeatedly argued that Venezuela should stop pushing its bid since it has no hope of getting the two-thirds majority. The one vote that Guatemala failed to win was the sixth round, when it tied Venezuela with 93 votes each.
"Really the decent thing to do here is for the losing candidate to withdraw and see if the Latin American group can coalesce around Guatemala or something else," U.S. Ambassador John Bolton said.
The Security Council has five permanent members - Britain, China, France, Russia and the U.S. The other 10 seats, filled for two-year terms, are portioned out to the five United Nations regional groups.
Some ambassadors said that it appeared the Latin American and Caribbean Group was far from any compromise. Greece's U.N. Ambassador Adamantios Vassilakis predicted that the process could last well into November.
"It is not a decision that is 'boom, you press a button and you get whatever you want,'" Vassilakis said. "Here you have to press 192 buttons."
Original article here.
We welcome your comments, but please comply with our
Comment Rules.
You must be registered and logged in to leave a comment. Comments will display your Username and location.
Log In »
Notable Quotables

"Draft a will and designate appropriate insurance beneficiaries and/or power of attorney; discuss a plan with loved ones regarding care/custody of children, pets, property, belongings, non-liquid assets (collections, artwork, etc.), funeral wishes, etc."

~ Excerpt from US State Department's warning for Americans traveling to North Korea, as published on Wednesday (more here).