Archives

AND MORE...


Some Inconvenient Facts
_____________________


Barbarians At The Gate
_____________________


Encyclopedic Ignorance, Part Deux
_____________________


Ethnic Cleansing Of Christians
_____________________
May 8, 2012
Vows, Marches & Threats
...as usual. Here come da fruits of the Arab Spring, folks:
Egypt's Islamists are planning on installing a global Islamic caliphate with its capital in Jerusalem, Islamist preacher Safwat Higazi told thousands of Muslim Brotherhood supporters in Cairo last week (see below).
"The capital of the caliphate – the United States of the Arabs – will be Jerusalem, God willing. Our capital shall not be in Cairo, Mecca or Medina," said Higazi before leading the crowd in chants of "Millions of martyrs march toward Jerusalem."
You gotta love these Islamists. If not maiming, killing or beheading, they're marching, chanting, vowing and threatening to take over the world.
Of course, a "capital" in Cairo, Mecca, Medina or anywhere else in the VAST, oil-rich region of the Arab Middle East isn't enough for them. They want the tiny, oil-free, sliver of desert that the Jews built up, and claimed for thousands of years as their one and only ancestral homeland. So why do the Arabs want that particular oil-free sliver of desert? Because it belongs to someone else!
Of course, when East Jerusalem was occupied by them (from 1948-1967, East Jerusalem was under Jordanian occupation, thanks to the less-than-neighborly Arab armies of Syria, Lebanon, Iraq, Saudi Arabia, Egypt and Jordan, which attacked the nascent State of Israel within hours of its birth, and conquered East Jerusalem) the Arab world didn't call for Jerusalem to be the capital of anything.
But now, as they undergo their Arab Spring (whatever that means, as there has yet to be a "Spring" of any kind in the 7th century-minded Arab world), torching, destroying and plundering everything in sight, they're turning their attention to other things. Like building productive lives, creating civil societies or entering the 21st century, you may ask?
Nope, they're back to marching, vowing, chanting, threatening to conquer and kill, and generally making the rest of the world as miserable as they are.
So remind us again: Other than barbarism, chaos, violence, bloodshed, terror and subjugation, what has the Islamic world contributed to mankind (per President Obama's 2009 Cairo speech) in, say, the last millennium?
The Jerusalem Post  |  May 8, 2012
Egypt Islamist Vows Global Caliphate In Jerusalem
"The capital of the United States of the Arabs will be Jerusalem," preacher tells thousands at Brotherhood rally.
By Oren Kessler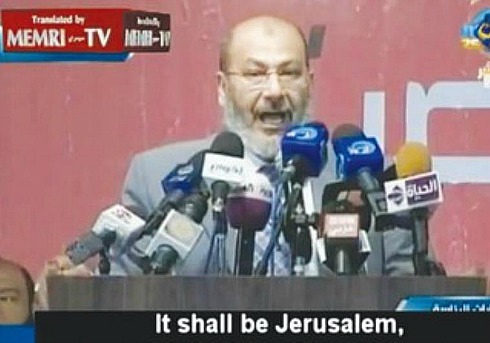 Snapshot from YouTube video
Egypt's Islamists aim to install a global Islamic caliphate with its capital in Jerusalem, a radical Muslim preacher told thousands of Muslim Brotherhood supporters in a clip released Monday.
"We can see how the dream of the Islamic caliphate is being realized, God willing, by Dr. Mohamed Mursi," Safwat Higazi told thousands of Brotherhood supporters at a Cairo soccer stadium as Mursi – the movement's presidential candidate – and other Brotherhood officials nodded in agreement.
"The capital of the caliphate – the capital of the United States of the Arabs – will be Jerusalem, God willing," Higazi said. "Our capital shall not be in Cairo, Mecca or Medina," he said, before leading the crowd in chants of "Millions of martyrs march toward Jerusalem."
Higazi is an unaffiliated Islamist who is barred from the United Kingdom for making statements endorsing terror attacks against Israelis. The clip, from Egypt's Islamist-oriented Al-Nas television station, was aired last week and uploaded to YouTube on Monday by the Middle East Media Research Institute.
Members of the crowd carried banners emblazoned with slogans related to next week's "Nakba Day," when Palestinians and other Arabs mourn Israel's creation in 1948.
"Tomorrow, Mursi will liberate Gaza," an unidentified man cheers in the video before leading the crowd in chants of "Allah Akbar."
"Banish the sleep from the eyes of all Jews," the man repeats, accompanied by drumming. "Come on, you lovers of martyrdom, you are all Hamas... Forget about the whole world, forget about conferences. Brandish your weapons, say your prayers and pray to the Lord."
Returning to the stage, Mursi vowed to pray in Jerusalem. "Yes, Jerusalem is our goal. We shall pray in Jerusalem, or die as martyrs on its threshold."
Raymond Stock, an American translator and academic who spent two decades in Egypt, said the clip should come as a surprise to no one.
"This is what the Muslim Brotherhood really stands for: the extermination of Israel – and Jews everywhere – as well as the spread and control of radical Islam over the world," he told The Jerusalem Post.
"How anyone can fail to see this boggles the mind – yet its denial is virtual dogma in the global mainstream media, US government and Western academia today," said Stock, who has translated a number of books by the Nobel Prize-winning Egyptian novelist Naguib Mahfouz.
The Brotherhood won about half of Egypt's parliamentary seats, but its main candidate Khairat al-Shater was disqualified last month from running for president and Mursi has struggled to win wide support.
Hard-line Salafi Islamists were parliamentary elections' biggest surprise, taking around 25% of seats.
Instead, the two front-runners are Abdel Moneim Abol Fotouh – a former Brotherhood figure who has won the backing of a broad range of voters from liberals to Salafis – and Amr Moussa, a former foreign minister and Arab League chief.
A presidential election, which starts on May 23-24, will choose a replacement for Hosni Mubarak, who was toppled in February last year.
Poll numbers released Monday by the state-run Al-Ahram Center show Moussa leading the field with 39%, followed by Abol Fotouh with 24%, former Mubarak premier Ahmed Shafiq with 17% and Mursi in fourth with just 7%.
Stock said Amr Moussa has a significant chance of replacing Mubarak.
"Many people want Islamist values but are afraid that Islamist control of the presidency in addition to parliament could be bad for tourism and foreign investment. Others simply like Moussa," he said. "He is a radical nationalist with a pragmatic streak, and from a Western point of view is the best we can hope for now that Omar Suleiman has been excluded."
"But we can't rule out Mohamed Mursi yet – the Brotherhood machine is extremely formidable, and nearly everyone has underestimated them before," he said, adding that "the Salafis remain wild cards, as ever."
Original article here.

We welcome your comments, but please comply with our
Comment Rules.
You must be registered and logged in to leave a comment. Comments will display your Username and location.
Log In »
Notable Quotables

"Joe Biden isn't leading from behind. Joe Biden is sleeping from behind. This year has been one embarrassment after another. Russian hacks. Chinese threats. Iranian missiles. And twenty years after September 11th, Afghanistan is back in the hands of the Taliban."

~  Former U.N. Ambassador Nikki Haley tweeting Monday afternoon (more here).