Archives

AND MORE...


From Russia With Love
_____________________


An Historic Farce
_____________________


Falsehoods Galore
_____________________


Befuddled Responses
_____________________


Kerry In Wonderland
_____________________
April 14, 2015
The Russians Are Coming...
TODAY, Britain scrambled Typhoon fighter jets to intercept two Russian long-range bombers near UK airspace. Intercepts of Russian aircraft by NATO have increased over the last year amid heightened tensions between the West and Moscow (reportedly) over the Ukraine crisis (see first article below).
YESTERDAY, Russia announced that it would reverse a years-long ban on arming Iran with the advanced S-300 air defense missile system (see second article below). Iran says the S-300 system could arrive as soon as later this year.
Of course, the Russian move was condemned by the Obama administration, which had (wrongly) viewed the ban as a sign of its "successful attempts to rein in Russian proliferation."
MEANWHILE, Israel PM Benjamin Netanyahu spoke with Russian President Vladimir Putin today, expressing Israel's "grave concerns" regarding Russia's decision to provide Iran with advanced anti-aircraft missiles. Israel's Channel 2 reported that Netanyahu might head to Moscow to meet with Putin and urge him again not to go through with the supply to Iran.
Israel Defense Minister Moshe Ya'alon argued earlier today:
"The S-300 deal that we are hearing about now is a direct result of the framework agreement that was reached in Lausanne [referring to the outline deal reached in the Swiss city earlier this month]. This is what we were warning about even before the details were agreed."
Echoing that view, Netanyahu said:
"This sale of advanced weaponry to Iran is the direct result of the dangerous deal on the table between Iran and the P5+1. Can anyone still seriously claim that the deal with Iran will enhance security in the Middle East?"
AND SO, as Secretary of State John Kerry phoned his Russian counterpart yesterday to express his concerns over the matter, and both the White House and the State Department outlined their concerns during briefings with reporters, we'd like to express the following to Obama et al:
This is what WEAKNESS invites. For the past 7 years, every dictator on earth has been pushing the envelope to see how far he could go. America's response? An expression of concern or maybe a harshly worded letter, in any case nothing of consequence, which explains why Russia, Iran et al are on the march.
Oh, and see here for Obama's latest capitulation and announcement that he intends to remove Cuba from the list of countries that sponsor terrorism.
Unfortunately, things will only get worse, at least until the current occupants of the White House evacuate the premises.
Another day and another reminder that elections have consequences, folks.
Business Insider  |  April 14, 2015
Britain Scrambles Typhoon Jets To See Off Russian Bombers
By Reuters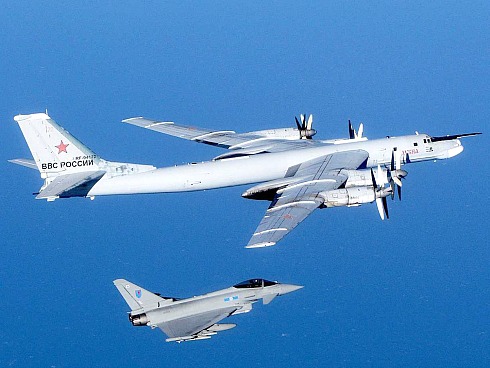 A Russian Bear aircraft is escorted by a Royal Air Force Quick Reaction Alert (QRA) Typhoon during an intercept in September 2014. MoD/Crown Copyright; Courtesy: businessinsider.com
LONDON (Reuters) - Britain has scrambled Typhoon fighter jets to intercept two Russian long-range bombers near UK airspace, the Ministry of Defence said on Tuesday.
Intercepts of Russian aircraft by NATO have increased over the last year amid heightened tensions between the West and Moscow over the Ukraine crisis.
Tuesday's incident came as Britain hosted war games off the coast of Scotland involving more than 50 warships and submarines and 13,000 personnel from 14 countries.
"The Russian aircraft are being escorted by the RAF (Royal Air Force) in the UK area of interest," a Ministry of Defence spokeswoman said.
In January, Britain summoned the Russian ambassador to explain a similar episode, when Russian bombers flew over the English Channel, forcing British authorities to reroute civil aircraft.
The MoD did not give the location of Tuesday's interception, which comes just three weeks before a knife-edge election in which defence policy has been an issue. The Typhoons were scrambled from RAF Lossiemouth in Scotland.
(Reporting by Kylie MacLellan; Editing by Andrew Osborn)
Original article here.

---
---

Washington Free Beacon  |  April 14, 2015
Russian Missile Sales To Iran Cross White House 'Red Line'
White House narrative on cooperation with Russia collapses
By Adam Kredo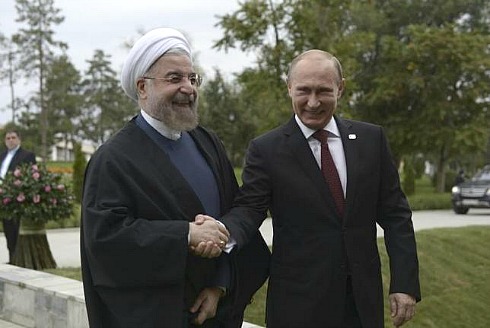 Russia's President Vladimir Putin (R) shakes hands with his Iranian counterpart Hassan Rouhani at the welcoming ceremony during a summit of Caspian Sea regional leaders in the southern city of Astrakhan, September 29, 2014. Reuters/Alexei Nikolsky/RIA Novosti/Kremlin
Russia's announcement on Monday that it will proceed with the sale of advanced missile systems to Iran crosses a so-called "red line" established by the Obama administration in 2010, according to comments by senior administration officials.
Following years of dissent from the United States, Russia announced on Monday that it would proceed with the sale of the advanced S-300 air defense missile system to Iran, which has been vying to purchase the hardware for years.
The announcement sparked criticism from the Obama administration, which has been pressuring Iran since at least 2010 to withhold the sale.
Russia's previous ban on selling Tehran the powerful defense system was hailed as a coup by the Obama administration and promoted by it as an example of President Obama's ability to rein in Russian intransigence on the military front.
However, Monday's announcement by Russia threatens to complicate an already fractured relationship with Moscow and throw into further jeopardy the ongoing negotiations with Tehran over its nuclear program.
Experts have warned that the reversal threatens to split the international coalition currently working to halt Iran's nuclear program—a narrative that the White House is working to downplay
The Russian executive order effectively "lifts the ban on transit of the S-300 air defense missile systems via Russian Federation territory (including by air), export from the Russian Federation to the Islamic Republic of Iran, and transfer of the S-300 to the Islamic Republic of Iran outside the Russian Federation's territory, using ships or aircraft flying the Russian Federation flag," according to an announcement by Moscow.
Russia's decision to arm Tehran with the S-300 system erodes a long-promoted narrative by the Obama administration about its success in preventing Russian proliferation.
One senior Obama administration official speaking in 2010 described the S-300 sale as a "red line" for the United States that "couldn't be crossed," according to Foreign Policy.
"They've made that very clear to us for the last two years that this is not a symmetrical transaction for them and they don't share the same threat assessment as us vis-a-vis Iran," the official was quoted as telling Foreign Policy in a 2010 article focused on "how the Obama team convinced Russia not to sell arms to Iran."
The White House claimed that Moscow's decision to ban arms sales to Tehran would usher in a new era of cooperation between the United States and Russia.
"The decision was a bold one that acknowledges how important it is to us and how important [Former Russian President] Medvedev takes this reset with President Obama," the administration official said.
Obama administration officials also told Foreign Policy that it had "made clear to Medvedev and other Russian officials that the sale of the S-300 to Iran was a red line that couldn't be crossed."
Monday's announcement by Russia flies in the face of this purported diplomatic success and left the Obama administration scrambling to respond. Officials in both the White House and State Department declined to discuss with the Washington Free Beacon its previous declaration about Russia's deal with Iran violating a so-called red line.
"We've seen those reports, as they relate to the possible sale of the S-300 anti-ballistic missile system to Iran," White House Press Secretary Josh Earnest told reporters on Monday.
The United States, he added, "has previously made known our objections to that sale" and did so again on Monday in private phone calls with the Kremlin.

The sale of the S-300 system to Iran could violate international economic sanctions still in place, Earnest said.
State Department spokeswoman Marie Harf said that while the sale of the S-300 to Iran would not violate United Nations Security Council sanctions on Tehran, it remains a concern to the United States.
"We don't believe it's constructive at this time for Russia to move forward with it," Harf told reporters.
"We think given Iran's destabilizing actions in the region, in places like Yemen or Syria or Lebanon, that this isn't the time to be selling these kinds of system to them," Harf explained. "So in general, that's what our concerns are based on."
Elliott Abrams, a former White House National Security Council (NSC) member, wrote that the breakdown in the Obama administration's campaign to block the sale is yet another sign of Washington's waning influence.
"American 'red lines' aren't what they used to be, Medvedev is gone, and the 'reset' with Russia is an embarrassment," Abrams wrote at the Council on Foreign Relations (CFR). "So is the way the Obama administration claimed credit for changing Russia's policy toward Iran."
Original article here.
We welcome your comments, but please comply with our
Comment Rules.
You must be registered and logged in to leave a comment. Comments will display your Username and location.
Log In »
Notable Quotables

An ancient Mikveh (Jewish ritual bath) dated to the time of the second temple was unveiled in Jerusalem during archaeological excavating near the Western Wall. 

~  Michal Hever, Hebrew University. On Twitter.