July 17, 2009
Suck It Up, Mr. Secretary
Instead of bewailing and lamenting the lack of ideal options with regard to Iran (see below), suck it up, Mr. Secretary, and choose the least of the worst course of action for us and our allies.
The worst thing would be for Iran to have nuclear weapons and the means to deliver them. Start from that and work your way backwards to find a solution that will ensure our survival and that of our closest ally in the Middle East , Israel. Anything beyond that is extra icing on the cake.
That, Mr. Secretary, is Rule #1 in Survival for Dummies.


The Jerusalem Post | July 17, 2009
Gates: 'Iran Is The Greatest Global Security Threat'
US defense secretary bewails world's inability to affect Islamic republic's nuclear weapons pursuit.
By JPost.com Staff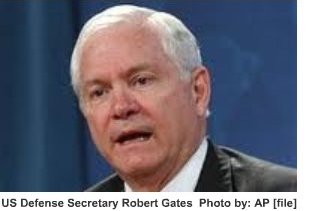 US Defense Secretary Robert Gates believes that Iran's nuclear program is the greatest current threat to global security.
"Iran is the one that concerns me the most because there don't seem to be good options (or a scenario) where one can have any optimism that good options will be found," Gates told the Economic Club of Chicago.
He bewailed the international community's inability to affect Iran's apparent determination to seek a nuclear weapon.
"All of the outcomes are negative," he continued. "If they achieve one, the possibility of a nuclear arms race in the Middle East is very, very real.
"If something is done to prevent them from getting one, the consequences of that are completely unpredictable and frankly, very bad." Gates lamented that he hadn't been able to persuade other nations, particularly Russia, that the Iranian nuclear issue did not simply just threaten the United States, AFP reported.
"Iran's going to have the capability to deliver nuclear weapons to the people in their region a lot sooner than they're going to have the capability to deliver them to us," he added.
Original article here.
We welcome your comments, but please comply with our
Comment Rules.
You must be registered and logged in to leave a comment. Comments will display your Username and location.
Log In »
Notable Quotables

"It was the Palestinian mob that prevented Abu Akleh's funeral from progressing to the church by hearse as the family had wanted. It was the mob that took the body without authorization, which forced Israeli Police to intervene with force to have them return the body to the hospital. Once returned, the body was transported to the church in the hearse under Israeli protection according to plan."

~  Itamar Marcus, Founder and Director of Palestinian Media Watch, on the hijacking of Shireen Abu Akleh's funeral (more here).