Archives
AND MORE...


Murderous Vote
_____________________


Nyet! No Explanations
_____________________


Our Whisperer-in-Chief
_____________________


Go Ahead, Make Our Day
_____________________
June 12, 2012
Our Friends, The Russians
Our BFFs, the Russians, you know, the ones with whom the Obama administration hit a "reset button, and signed a disastrous New START (i.e., the February 2011 US-Russia Strategic Arms Reduction Treaty, according to which we reduce, and Russia arms) are continuing to fuel the Syrian regime's massacre of its own citizens. Now, the Russians are planning on sending attack helicopters (see below).
So let's see, we help Russia gain entry into the WTO (World Trade Organization), and trumpet a new & improved relationship with the Russians, while the Russians:
• Build and complete the nuclear reactor in Iran, and undermine U.S. sanctions against Iran.
• Arm and supply the Syrian regime in the ongoing massacre of its citizens, and thwart/veto a proposed UN arms embargo against Syria,
• Threaten to carry out a pre-emptive strike on U.S. missile defense facilities in Eastern Europe, if Washington goes ahead with its plan to build a missile shield.
• Threaten to shut down U.S. supply lines into Afghanistan.
Meanwhile, our Whisperer-in-Chief is caught whispering sweet-nothings into Russian president, Dmitry Medvedev's ear. "On all these issues, but particularly missile defense, this, this can be solved, but it's important for [incoming Russian President Vladimir Putin] to give me space. ...This is my last election. After my election, I have more flexibility," Obama told Medvedev.
And our Secretary of State is disgusted by the massacres, whining that Russia's shipment of attack helicopters "will escalate the conflict quite dramatically." (Gee, ya think?)
Looks like our new relationship with Russia consists of us kissing up to the Russians and the Russians blowing us off. Yep, they love us, they really love (and respect) us.
FoxNews.com | June 12, 2012
Clinton Accuses Russia Of Arming Syria With Attack Helicopters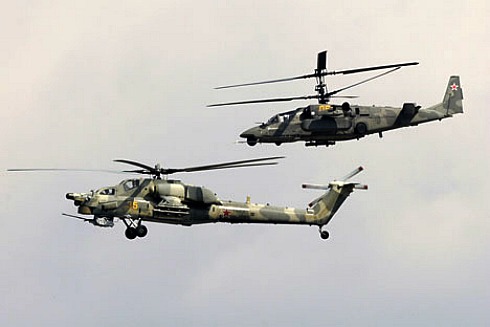 Russian combat helicopters
Secretary of State Hillary Clinton on Tuesday accused Russia of providing attack helicopters to Syrian President Bashar Assad's regime.
The statement put the Pentagon in an awkward position, as the U.S. military has come under criticism in Congress for working through what is apparently the same Russian firm to purchase helicopters for the Afghan army.
It also followed a blunt acknowledgement by the U.N. Tuesday that the country has descended into civil war, only adding to the concern that violence could continue to escalate in Syria.
Sen. John Cornyn, R-Texas, had initially raised questions about the Russian contractor. He had written a letter Monday to Defense Secretary Leon Panetta expressing "grave concerns" about U.S. dealings with the firm that is "arming the Assad regime" in Syria.
Asked about those concerns Tuesday, Pentagon spokesmen did not deny that Russia was allegedly providing attack choppers to Assad through the same firm the U.S. uses to buy Mi-17 helicopters.
The spokesmen also struggled to answer why the U.S. is not pushing for an arms embargo against Syria, as it did against Libya and Yugoslavia.
But Navy Capt. John Kirby, a Pentagon spokesman, said the key issue is how the Syrians use the materiel.
"Let's not let the Assad regime off the hook here," he told reporters. "The focus really needs to be more on what the Assad regime is doing to its own people, than the cabinets and the closets to which they turn to pull stuff out. It's really about what they're doing with what they've got in their hands."
In recent days, the State Department has decried what it calls "horrific new tactics" by Syrian forces, including helicopters attacks on civilians.
Clinton's latest comments came at a public appearance with Israeli President Shimon Peres.
She said the U.S. was "concerned about the latest information we have that there are attack helicopters on the way from Russia to Syria."
She said the shipment "will escalate the conflict quite dramatically."
Diplomatic hopes have rested on Washington and Moscow agreeing on a transition plan that would end the 40-year Assad regime.
But Moscow has consistently rejected the use of outside forces to end the conflict or any international plan to force regime change in Damascus. Despite withering criticism from the West, it insists that any arms it supplies to Syria are not being used to quell anti-government dissent.
With diplomacy at a standstill, the reported shipment of helicopters suggests a dangerous new turn for Syria after more than a year of harsh government crackdowns on mainly peaceful protests and the emergence of an increasingly organized armed insurgency.
There was no immediate reaction from the Russian Foreign Ministry.
Cornyn, on Monday, wrote that the Defense Department had awarded a no-bid contract to the Russian firm Rosoboronexport last June, though he was told months later by the Pentagon that the firm "continues to supply weapons and ammunition" to Assad's regime.
"I remain deeply troubled that the (Defense Department) would knowingly do business with a firm that has enabled mass atrocities in Syria," Cornyn wrote, suggesting sanctions against Rosoboronexport would be more appropriate than a contract.
A Pentagon spokeswoman, though, defended the contract.
Spokeswoman Tara Rigler said in an email to FoxNews.com that it is "the only legal method to purchase the military version of the Mi-17 and to provide an appropriate measure of flight safety and airworthiness."
"As we have noted before, these aircraft remain crucial to the development of Afghanistan's Air Force capability and therefore important to our mission of ensuring that Afghan forces can ultimately defend their own sovereignty," Rigler said.
She said Panetta has received Cornyn's letter and would respond to the senator "promptly" about his concerns.
We welcome your comments, but please comply with our
Comment Rules.
You must be registered and logged in to leave a comment. Comments will display your Username and location.
Log In »
Notable Quotables

"Mr. Netanyahu is one of the most media-savvy politicians on the planet. On Friday he appeared live via video link on 'Real Time with Bill Maher,' taking the host's alternately sardonic and serious line of questioning with gazelle-like alacrity."

~  Anthony Grant, jourrnalist who has written for many major newspapers and worked in television at Paris and Tel Aviv, interviewing former PM Benjamin Netanyahu on Monday, at the outset of Mr. Netanyahu's new book (more here).