Archives
AND MORE...


3 Days of Venom at UPenn
_____________________


Anyone Shocked, Shocked?
____________________


Groveling Is Not A Strategy
_____________________


Beware of Fishermen Bearing Gifts
_____________________
January 23, 2012
Nyet, No Explanations!
Our friends, the Russians, i.e., the ones we hit the reset button with, and signed START II, a new nuclear arms reduction treaty (according to which we reduce, and they arm) just sold 36 fighter planes to Syria. Ya know, that place where protestors are currently being massacred in the streets by the Syrian government, and where an august Arab League delegation of "human rights" observers (led by a genocidal Sudanese General), sent to monitor the situation, is high-tailing it outta there 'cause it's dangerous!
Yes, our treaty buds, the Russians, have just given the Syrian government more ways to kill its citizens but, hey, they're making $550 million from it, moral principles be damned!
The Jerusalem Post | January 23, 2012
'Syria purchases 36 fighter planes from Russia'
Russian daily 'Kommersant' reports Syria, Russia inked $550 million deal for Yak-130 jets in December.
By JPost.com Staff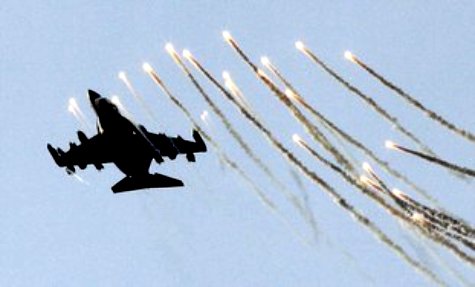 A YAK-130 military plane in an air show. Photo by: REUTERS/Sergei Karpukhin
Syria purchased 36 Yakovlev Yak-130 Mitten fighter planes from Russia for $550 million, the Russian daily Kommersant reported Monday.
The deal, signed in December, specifies that production of the planes will begin once initial payments are made.
Russian Foreign Minister Sergei Lavrov said in January that Russia has no intention to justify its arms sales to Syria.
"We don't consider it necessary to explain ourselves or justify ourselves, because we are not violating any international agreements or any (UN) Security Council resolutions," he told an annual news conference.
A Russian-operated ship with "a dangerous cargo" reached conflict-torn Syria in early January, a source at the vessel's St. Petersburg-based firm said, after being temporarily halted during a refueling stop in Cyprus.
In December, Russia delivered anti-ship cruise missiles to Syria, according to the Interfax news agency, days after a United Nations commission of inquiry called for an arms embargo on Damascus.
Reuters contributed to this report.
Original article here.
We welcome your comments, but please comply with our
Comment Rules.
You must be registered and logged in to leave a comment. Comments will display your Username and location.
Log In »
Notable Quotables

"There's much to be thankful for about how things ended last week in Texas, and about the outpouring of love and support, across faiths, for a little Jewish community. But the wise counsel for Jews is to be grateful for last week's good luck, while taking it as a warning that our luck in America may run out."

~  Bret Stephens, prolific journalist, author and op-ed writer, in "What an Antisemite's Fantasy Says About Jewish Reality" (more here).