October 25, 2009
No Democracy, Just Islam
So much for winning hearts and minds in Afghanistan, or as General McChrystal would say, "[exploiting] the cultural and ideological separation of the [insurgents] from the vast majority of the Afghan population."
See pictures below.
Sunday, October 25, 2009
Afghanistan: Shots Fired To Disperse Koran Protesters, Shouting 'No Democracy.. Just Islam!' And Burn Obama Effigy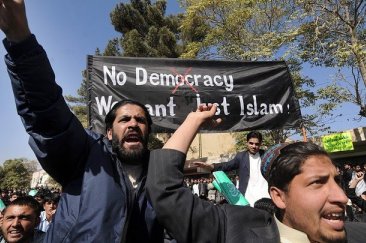 University students shout anti-U.S. slogans in front of President Barack
Obama's effigy during a demonstration in front of the Afghan Parliament
in Kabul, Afghanistan on Sunday, Oct. 25, 2009. Hundreds of Afghans
shouted anti-US, NATO and Afghan government slogans and burned
effigy of the President Barack Obama during a rally to protest a rumor
that U.S. forces had bombed a mosque and burned a copy of the Muslim
holy book, the Quran, in nearby Wardak province in mid-October.
KABUL (Reuters) - Afghan police fired into the air on Sunday to break up a protest by thousands of people who had gathered in the capital, Kabul, to protest against what they said was the desecration of a copy of the Koran by foreign troops.
Protesters, claiming foreign forces had burned a copy of Islam's holiest book during a raid in Maidan Wardak province last week, blocked traffic in Kabul for more than an hour.
A spokeswoman for U.S. and NATO-led forces in Afghanistan said none of their troops were involved in the incident and blamed the Taliban for spreading a false rumor that a copy of the Koran had been burned.
More than 100,000 foreign troops are battling a resurgent Taliban in Afghanistan, where violence this year reached its highest level since the austere Islamists were ousted by U.S.-backed Afghan forces in 2001.
Thick plumes of smoke rose above the crowd as protesters set fire to a large effigy of what they said was U.S. President Barack Obama.
"Death to America. Down with Israel," chanted one man at the rally, which was organized mainly by university students.
Others threw stones and clashed with police but no casualties were reported.
"No to democracy. We just want Islam," said one banner carried by protesters, many of whom shook their fists in the air.
Captain Elizabeth Mathias, a media officer for U.S. and NATO-led forces in Afghanistan, said the Taliban were trying to undermine foreign troops by spreading the rumor.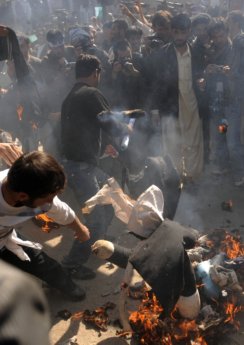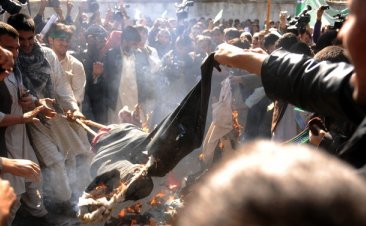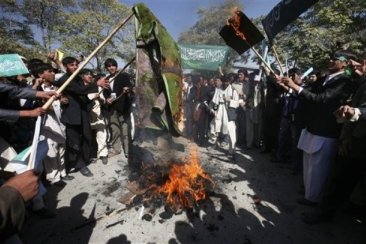 "We did not burn a Koran ... It is unfortunate that the protesters believe a Taliban rumor," Mathias said, adding an investigation had been carried out.
The Taliban could not be reached immediately for comment.
Security is already being tightened across Afghanistan as the country braces for a run-off vote in its presidential poll on November 7 after the first round in August was tainted by allegations of widespread fraud.
The Taliban on Saturday vowed to disrupt the poll and urged Afghans to boycott the vote, as they had done before the August 20 first round.
Afghanistan has seen protests in the past over similar incidents, as well as over cartoons depicting the Prophet Mohammad in a Danish newspaper in 2006.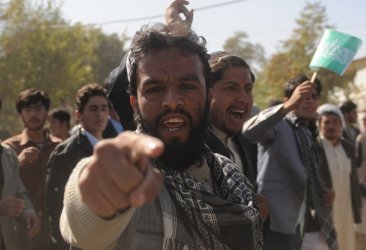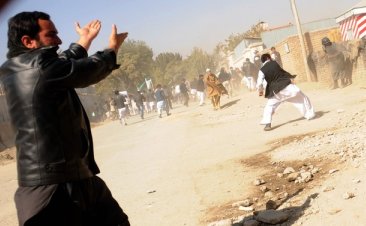 Afghan university students shouting anti-US slogans throw stones
at the parlimant security forces during a demonstration in Kabul on
October 25, 2009.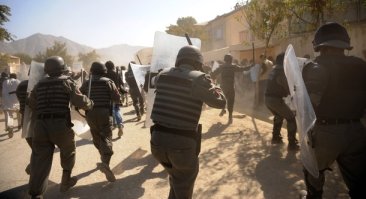 See story and more pictures here.
We welcome your comments, but please comply with our
Comment Rules.
You must be registered and logged in to leave a comment. Comments will display your Username and location.
Log In »
Notable Quotables

"The damage to the reputation of the United States is indescribable. We are now seen, and will be seen for many years, as an unreliable partner in any multinational agreement or operation. Trust in the United States is irreparably damaged."

~  From Open Letter penned three days ago, by nearly 90 retired US generals and admirals to Sec of Defense Lloyd Austin and Chairman of Joint Chiefs of Staff Gen Mark Milley, calling on them to resign from their positions over their handling of US withdrawal from Afghanistan (more here).