November 18, 2010
More "Vacation" Photos
Why is this more justified, or for that matter more civilized than profiling?
The problem here (see below) is not "balancing of security and privacy." The problem is allowing political-correctness to trump common sense.


The Denver Post | November 18, 2010
Controversy Over Pat-Downs, Body Scans Lands At DIA
By Jeffrey Leib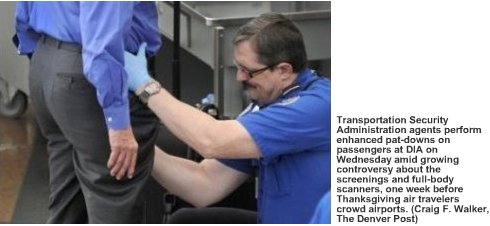 Despite ongoing criticism from some Washington lawmakers and many travelers, Transportation Security Administration chief John Pistole refused Wednesday to back off the agency's position that tougher airport screening techniques are needed to counter evolving threats.
"I'm not going to change those policies," he declared to lawmakers.
At U.S. airports, the TSA has been deploying more advanced imaging scanners that perform a kind of electronic strip-search on passengers and allow screeners hidden in control rooms to search the images for concealed weapons and explosives.
And in recent weeks, TSA screeners also have escalated the pat-down procedure on passengers in a way that some say is far too intrusive.
"I'm frankly bothered by the level of these pat-downs," Sen. George LeMieux, R-Fla., told Pistole, who was testifying before the Senate Committee on Commerce, Science and Transportation.
"I wouldn't want my wife to be touched in the way that these folks are being touched," LeMieux said. "I wouldn't want to be touched that way."
Pistole, who has been subjected to a pat-down himself, said: "It is clearly more invasive." But the procedures are necessary, he said, to detect devices not seen before.
As passengers traveled through Denver International Airport on Wednesday in advance of the Thanksgiving rush, some invoked their constitutional right against unreasonable search, while others were more forgiving of efforts to keep travel safe.
Jeffrey "Gator" Henry of Charlotte, N.C., moved through security in skimpy gym shorts and a sleeveless tank top as part of his plan to reject screening by advanced imaging machines - the devices that use either millimeter-wave or backscatter X-ray technology - and to request a pat-down instead.
"It's an invasion of privacy," said Henry, a television and film producer, as he waited at DIA's A concourse checkpoint.
Henry said he's joined the nascent movement that is asking travelers to voluntarily opt out of screening by the full-body scanners in favor of more time-consuming pat-downs. Some have designated the day before Thanksgiving as National Opt-Out Day.
"I dressed this way so there is nothing to pat down," he said of the more intensive TSA hand searches.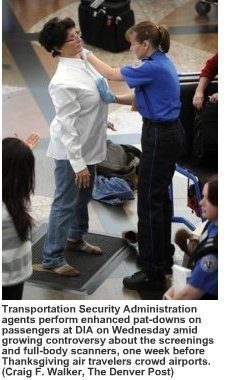 TSA pat-downs have evolved into more of a light massage, with screeners running their hands up and down the arms, torsos and legs of those passengers selected for the extra screening procedure.
Anthony Giovingo of New Orleans was flying home after visiting his daughter in the Denver area and said he is unfazed about full-body scanning.
"It doesn't bother me," Giovingo said. "I'd rather go through the scanner than be patted down. It's quicker and less invasive. I have nothing to hide, so what's the problem?"
Smooth flying for some
On Wednesday, it appeared that most travelers, including Henry, were able to avoid screening by the advanced imaging devices or pat-downs by passing through the checkpoint metal detectors without generating alarms.
Jill Johnson of Colorado Springs arrived at DIA from Dallas and said at that city's airport, she similarly had cleared the metal detector and avoided the more controversial screening techniques.
Johnson said she has not yet been screened at an airport by a full-body scanner but would not object if she were asked to submit to such an electronic scan.
"Everybody has to understand that we're talking about preventing another 9/11," she said. "It might be an invasion of privacy, but we're talking about a matter of life and death."
Of the enhanced pat-downs, Johnson added, "If it's done respectfully, people should allow it."
TSA's new pat-down procedure is "more up close and personal" than earlier hand-search techniques, but it is "not just Keystone Kops making it up as they go along," said Richard Bloom, director of terrorism, intelligence and security studies at Embry-Riddle Aeronautical University in Prescott, Ariz.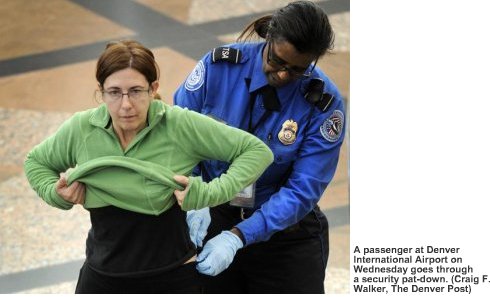 New TSA techniques develop out of a collaboration between the security and intelligence personnel that is constantly evaluating ever-changing threats, said Bloom, who spent 20 years in U.S. intelligence work.
The TSA operates 768 security checkpoints, with 2,225 screening lanes, at 458 airports across the country. Currently, the agency has deployed 385 of the advanced imaging scanners at 68 U.S. airports, including six at the three checkpoints at DIA. Those six use millimeter-wave technology.
In remarks to the Senate committee, Pistole said the TSA's goal is to have 1,000 advanced imaging machines deployed at airports by the end of 2011.
A topic for the courts
Currently, there is no legal "bright line" to determine whether advanced imaging scans or intensive pat-downs amount to unreasonable searches of passengers, said Sam Kamin, an associate professor of constitutional law and criminal procedure at the University of Denver law school.
As lawsuits develop, courts undoubtedly will be looking at the privacy question, but they likely will be "loathe to second-guess" the TSA's balancing of security and privacy, Kamin said.
TSA officials undoubtedly would rather be on Capitol Hill answering questions about screening intrusiveness than "explaining why an airliner was brought down," he said.
Original article here.
We welcome your comments, but please comply with our
Comment Rules.
You must be registered and logged in to leave a comment. Comments will display your Username and location.
Log In »
Notable Quotables

"Mr. Netanyahu is one of the most media-savvy politicians on the planet. On Friday he appeared live via video link on 'Real Time with Bill Maher,' taking the host's alternately sardonic and serious line of questioning with gazelle-like alacrity."

~  Anthony Grant, jourrnalist who has written for many major newspapers and worked in television at Paris and Tel Aviv, interviewing former PM Benjamin Netanyahu on Monday, at the outset of Mr. Netanyahu's new book (more here).