August 11, 2008
Insanity Grips The World
The League of Nations came into being at the end of WWI to ensure that world wars never broke out again. It failed, and as WWII came to an end, the United Nations was formed in its stead, to prevent such wars from ever happening again.
Chances are that years from now, people will read newspaper accounts similar to the one below, and ponder about the war which brought about the demise of the United Nations. Then, as now, people will ask "how could we have relied on this farce of an institution to prevent global catastrophes?" And then, as now, there will be those who advocate for another global institution "to provide a forum for international discussion and promote freedom around the world," in place of the UN.
Insane? Indeed, especially if one defines "insanity" as doing the same thing over and over and expecting different results.


The New York Sun | August 11, 2008
Paralysis of War Grips the U.N.
Envoys Spar as Kremlin Readies Veto
By Benny Avni, Staff Reporter of the Sun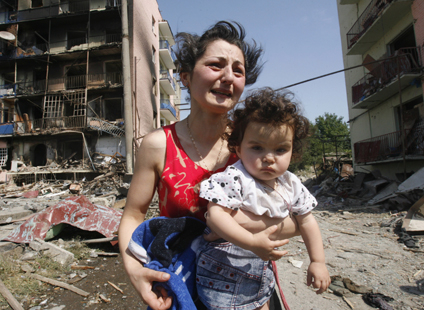 UNDER ATTACK A Georgian woman and her baby outside their shelled home in
the Georgian city of Gori. Hundreds of residents have fled the region.
(David Mdzinarishvili/Reuters)
UNITED NATIONS - As President Saakashvili of Georgia appeals to America and the "world community" to intervene to stop the war in his country, the Security Council is mired in a Cold War-like paralysis that will likely lead in the next few days to a Russian veto on a proposed cease-fire resolution, diplomats say.
In yesterday's emergency session, the American U.N. ambassador, Zalmay Khalilzad, accused Moscow of attempting to orchestrate a "regime change" in Tbilisi and said Russia's "campaign of terror" in Georgia could have a serious effect on its relations with America and the rest of the world.
Georgia, America, the United Nations, and France as the president of the European Union have called for a cease-fire and a return to the situation that existed before the latest hostilities in Georgia's breakaway South Ossetia region were launched on Friday. France is said to be preparing a Security Council resolution along those lines.
But the Russian U.N. ambassador, Vitaly Churkin, said such calls miss the "complex" nature of the situation. The only acceptable solution, he said, is a complete and unilateral withdrawal of Georgian troops. Former Russian "peacekeepers" in South Ossetia, he added, are now on a "peacemaking" operation.
In the course of yesterday's council session, Mr. Churkin said the United Nations itself was biased against his country, scoring America on its actions in Afghanistan, Iraq, and Russia's ally Serbia. Also, he said, America barred the council for more than a month in 2006 from imposing a cease-fire in the war between Israel and Hezbollah.
Moscow is reportedly pressuring Jerusalem to withdraw all its support of Georgia. Earlier this year, an Israeli-made Georgian drone was downed in the breakaway Abkhazia region, highlighting Israel's arms sale network to Georgia. Several ex-Israeli army officials have trained Georgian troops, and the Georgian defense minister, Davit Kezerashvili, is a former Israeli citizen.
Mr. Churkin yesterday accused America of giving the "wrong signal" to Mr. Saakashvili by conducting a joint military exercise with the Georgian army days before the Friday morning incursion into South Ossetia, which is said to have triggered the current round of hostilities. Secretary of State Rice, he said, actually watched the joint exercise last week.
"The United States and the world community should stop intervention and invasion of my sovereign country," Mr. Saakashvili told CNN yesterday. "This is not about Georgia anymore. This is about basic values of humanity," he said, adding, "We proclaim cease-fire."
Russian jets reportedly struck targets in Tbilisi, while its troops entered Abkhazia yesterday, and Russian tanks rolled in from South Ossetia into Georgia proper. Russian officials reported sinking a Georgian missile boat that threatened Russian ships in the Black Sea. Georgian officials said Russia planned a blockade of their country. Georgia, which has aspired to NATO membership, announced it would withdraw troops from Iraq, where it was one of the allies that remained supportive of the American-led coalition. Another NATO aspirant, Ukraine, said it might join Georgia's fight against Russia.
In a telephone conversation between Ms. Rice and Russian foreign minister Sergey Lavrov yesterday, Mr. Lavrov said that "Saakashvili must go," Mr. Khalilzad told the council. "This is completely unacceptable," Mr. Khalilzad said. "I want to ask Ambassador Churkin, is your government's objective regime change in Georgia, the overthrow of the democratically elected government of Georgia?"
Regime change "is purely an American invention," Mr. Churkin told reporters afterwards. But the fact that Mr. Khalilzad made the point publicly "may be an interesting signal," he added. "There are democratically elected — or semi-democratically elected — leaders who do things which create grave problems for their countries."
Mr. Churkin angered most council members when he said a report that U.N. undersecretary general for political affairs, Lynn Pascoe, an American, delivered yesterday showed "that the Secretariat of the United Nations and its leadership was not able to adopt that objective position that is required by the substance of this conflict." In closed-door consultations, Mr. Churkin acknowledged that his objection to Mr. Pascoe was because of his nationality, a diplomat said, asking for anonymity.
Mr. Khalilzad's assertion that Russia conducts a "war of terror" in Georgia "is absolutely unacceptable," Mr. Churkin told the council, "particularly from the lips of the permanent representative of a country whose actions we are aware of, including with regard to civilian populations in Iraq and Afghanistan and Serbia."
In 2006, "there was a 34-day war in the course of which an entire country was destroyed," Mr. Churkin said, referring to Lebanon, "and all the while the United States was opposing a cease-fire for some geopolitical or other reasons." These two conflicts are not "analogous," Mr. Khalilzad said.
Original article here.
We welcome your comments, but please comply with our
Comment Rules.
You must be registered and logged in to leave a comment. Comments will display your Username and location.
Log In »
Notable Quotables

"[Rashida] Tlaib and her antisemitic colleagues are successfully seizing control over the Democratic Party because their fake history, fake facts, and fake news about Jews jibe with the general progressive preference for ideological purity over objective reality; and for revolutionary goals and victim narratives over truth, norms, and law."

~ Caroline Glick, world-renowned journalist, on why Democratic congressional leaders are rushing to defend Rep. Rashida Tlaib (D-MI) for inventing a bigoted, alternative, antisemitic history of the Holocaust (more here).