Archives
AND MORE...


Mr. Terrorist Goes To Washington
____________________


"Freedom Fighters" Attack Women At Rally
____________________


And Away We Go
____________________


Shameful Chapter In American History
____________________
June 25, 2012
Get Ready To Rumble
It's official, Islamist Mohammed Morsi of the Muslim Brotherhood is set to become the next president of Egypt, after winning 51.7 percent of the vote.
Yes, when the so-called Arab Spring first sprung into action in Egypt, the Muslim Brotherhood was not involved, although it quickly jumped on the bandwagon as the popular revolt gained momentum. It promised it would not run a candidate in any upcoming presidential election, so what happened? It changed its mind…
Tahrir Square was filled on Sunday with Islamist supporters (and the poor, looking forward to realization of the many promises made to them by the MB), celebratory gunfire and shouts of "Allahu Akbar!" or Allah is Great.
So will Egypt become an Islamist state or honor its longtime peace agreement with Israel (see below)? Who knows, as whatever the Muslim Brotherhood or its candidate say today, they can easily change their mind... tomorrow.
As for Mr. Morsi's comments about restoring/expanding ties with Iran in order to create a "balance of pressure" in the region, well, let's just say that when the Arab world starts talking about creating balances, it's time to get ready to rumble, folks.
Ynet.com | June 25, 2012
Egypt's Morsi says wants to expand Iran ties
Egypt's president-elect tells Iran's Fars news agency he's looking to expand ties with Tehran to create strategic 'balance' in region
By Reuters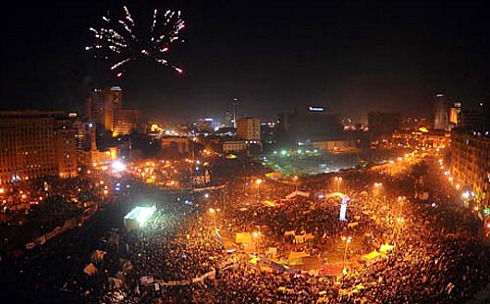 Egyptians set off fireworks in Tahrir Square in Cairo. Photograph: Mohamed Omar/EPA; Courtesy: guardian.co.uk
Egypt's Islamist President-elect Mohammed Morsi has said he wants to restore long-severed ties with Tehran to create a strategic "balance" in the region, in an interview published on Monday with Iran's Fars news agency.
Diplomatic relations between Egypt and Iran were severed more than 30 years ago, but both countries have signalled a shift in policy since former president Hosni Mubarak was toppled last year in a popular uprising.
"We must restore normal relations with Iran based on shared interests, and expand areas of political coordination and economic cooperation because this will create a balance of pressure in the region," Morsi was quoted as saying in a transcript of the interview.
Fars said it had spoken to Morsy a few hours before the result of the vote was announced on Sunday.
Asked to comment on reports that, if elected, his first state visit would be to Riyadh, Morsi said: "I didn't say such a thing and until now my first international visits following my victory in the elections have not been determined".
Iran subsequently hailed Morsi's victory over former general Ahmed Shafiq in Egypt's first free presidential election as a "splendid vision of democracy" that marked the country's final phase of an "Islamic Awakening".
'Peace with Israel will be reviewed'
In contrast to comments he made in a televised address after his victory was announced on Sunday, Fars news quoted Morsy as saying Egypt's Camp David peace accord with Israel "will be reviewed", without elaborating.
The peace treaty remains a lynchpin of US Middle East policy and, despite its unpopularity with many Egyptians, was staunchly upheld by Mubarak, who also suppressed the Muslim Brotherhood movement to which Morsy belongs.
Asked about his policy towards Israel, Morsi said that Egypt under his leadership will pursue an "egalitarian policy" matching the two countries' status. He added that Cairo will discuss the restoration of Palestinian rights and review the Camp David agreements. He stressed he will not be making any decisions alone but rather in conjunction with the cabinet and other governmental agencies.
Morsi was declared Egypt's first Islamist president on Sunday after the freest elections in the country's history.
The election commission said Morsi won with 51.7% of last weekend's run-off vote versus 48.3 for Shafiq. Turnout was 51%. Voter turnout in the first round stood at 46%.
In his first address to the nation, hours after being declared Egypt's new president, Morsi pledged to "preserve international accords and obligations" - a reference to the peace deal with Israel.
However, Morsi did not specifically mention Israel or the 1979 Camp David Accords.
Original article here.
We welcome your comments, but please comply with our
Comment Rules.
You must be registered and logged in to leave a comment. Comments will display your Username and location.
Log In »
Notable Quotables

"Mr. Netanyahu is one of the most media-savvy politicians on the planet. On Friday he appeared live via video link on 'Real Time with Bill Maher,' taking the host's alternately sardonic and serious line of questioning with gazelle-like alacrity."

~  Anthony Grant, jourrnalist who has written for many major newspapers and worked in television at Paris and Tel Aviv, interviewing former PM Benjamin Netanyahu on Monday, at the outset of Mr. Netanyahu's new book (more here).