Archives

AND MORE...


Another Day At Cesspool Central
____________________


Murder Inc. Pays a Visit aka The Zone (2)
____________________


Council of Fools
_____________________


Temple of Doom
_____________________
May 29, 2012
Genocidal Murderers, Inc.
Each time it looks like Cesspool Central (aka the UN) has hit bottom, they outdo themselves and scrape the sludge beneath the bottom of the barrel. This time, they came up with Zimbabwean tyrant Robert Mugabe who, to borrow the words of British writer H.H. Munro, "is one of those people who would be enormously improved by death."
Widely accused of ethnic cleansing, rigging elections, terrorizing opposition, controlling media and bankrupting his country, Mugabe has just been appointed by the UN's World Tourism Organization as a new "international envoy for tourism" (see below).
"It boggles the mind how the UN could appoint Mugabe as an ambassador of any sort," said Dewa Mavhinga of the Crisis in Zimbabwe Coalition, an umbrella organization of civil society groups.
What boggles the mind is how any civilized nation could participate in an institution that consistently honors tyrants, murderers, and other assorted miscreants and degenerates.
Guardian.co.uk  |  May 29, 2012
Robert Mugabe Asked To Be UN 'Leader For Tourism'
The Zimbabwe president, accused of ethnic cleansing and bankrupting his country, asked to champion tourism
By David Smith, Johannesburg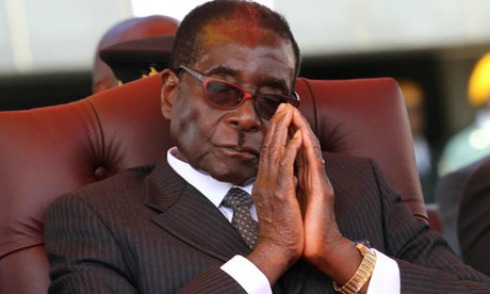 Zimbabwean president Robert Mugabe has been asked by the UN to champion tourism. Photograph: Aaron Ufumeli/EPA/Corbis
With a line-up that includes Drew Barrymore, David Beckham, Orlando Bloom, and Ricky Martin, the UN's choice of ambassadors has been known to cause raised eyebrows or the odd smirk.
Seldom, however, has there been such anger, or questioning of the organisation's credibility, as that greeting the appointment of a new international envoy for tourism: Robert Mugabe.
Improbable as it seems, the Zimbabwean president, who is widely accused of ethnic cleansing, rigging elections, terrorising opposition, controlling media and presiding over a collapsed economy, has been endorsed as a champion of efforts to boost global holidaymaking.
Despite that fact Mugabe, 88, is under a travel ban, he has been honoured as a "leader for tourism" by the UN's World Tourism Organisation, along with his political ally, Zambian president Michael Sata, 75. The pair signed an agreement with UNWTO secretary general Taleb Rifai at their shared border at Victoria Falls on Tuesday.
Zimbabwe's state-owned Herald newspaper quoted Rifai urging tourists from around the world to visit : "I was told about the wonderful experience and the warm hospitality of this country ... By coming here, it is recognition, an endorsement on the country that it is a safe destination."
The agreement will also see the two southern African countries co-host the UNWTO general assembly in August next year.
UNWTO said it had not appointed Mugabe to any formal position but acknowledged he would receive an open letter like other heads of state who have joined its leaders for tourism campaign.
The development has stunned human rights campaigners and political opponents, who regard Mugabe as a tyrant.
Kumbi Muchemwa, a spokesman for the Movement for Democratic Change (MDC), said: "I can't see any justification for the man being an 'ambassador'. An ambassador for what? The man has blood on his hands. Do they want tourists to see those bloody hands?"
Meanwhile, British MP Kate Hoey, chair of the all-party parliamentary group on Zimbabwe, said: "It is an absolute scandal – and an affront to the people of Zimbabwe, who didn't vote for Mugabe as their president but had him imposed because he used violence and the armed forces to hang onto power in defiance of the democratic will of the people of Zimbabwe.
"For a man who has destroyed his country's infrastructure and cynically engineered hunger to be an 'ambassador' for tourism is disgraceful – particularly as he has been personally responsible for the downward spiral of the economy and destroyed the hotel, travel and tourism industry in the process."
Mugabe and his allies are subject to EU and US sanctions preventing them from travelling to EU countries including Britain, although he does attend the UN general assembly in New York. More here...
We welcome your comments, but please comply with our
Comment Rules.
You must be registered and logged in to leave a comment. Comments will display your Username and location.
Log In »
Notable Quotables

"It was the Palestinian mob that prevented Abu Akleh's funeral from progressing to the church by hearse as the family had wanted. It was the mob that took the body without authorization, which forced Israeli Police to intervene with force to have them return the body to the hospital. Once returned, the body was transported to the church in the hearse under Israeli protection according to plan."

~  Itamar Marcus, Founder and Director of Palestinian Media Watch, on the hijacking of Shireen Abu Akleh's funeral (more here).