July 6, 2011
Free Appendectomies For All
In a posting last year entitled "Free Colonoscopies For Everyone" we warned that it was just a matter of time until terrorists figured out a way to get around the grope-a-dope screening measures employed in our airports today.
Well, the U.S. government is now warning airlines that terrorists are considering "surgically implanting explosives into humans to carry out attacks" (see below).
Huh, duh, so what else is new?!
So, umpteenth Memo to the U.S. government: DO AS THE ISRAELIS DO, and focus on the individuals, not the "items" they're carrying. Most importantly, hire and train the right folks to do it. (A good first step would be to hire/train military vets as airport security personnel, since they know what an enemy looks like!)


FoxNews.com / Associated Press | July 6, 2011
Terrorists May Be Turning to Human Bombs, U.S. Warns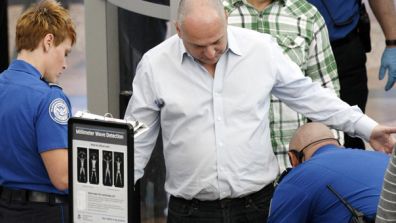 Nov. 23: A TSA worker rubs a traveler's leg as another TSA worker looks
on during a pat-down at Denver airport. AFP
WASHINGTON -- The U.S. government has warned domestic and international airlines that some terrorists are considering surgically implanting explosives into humans to carry out attacks, The Associated Press has learned.
There is no intelligence pointing to a specific plot, but the U.S. shared its concerns last week with executives at domestic and international carriers.
People traveling to the U.S. from overseas may experience additional screening at airports because of the threat, according to the Transportation Security Administration.
"These measures are designed to be unpredictable, so passengers should not expect to see the same activity at every international airport," TSA spokesman Nick Kimball said. "Measures may include interaction with passengers, in addition to the use of other screening methods such as pat-downs and the use of enhanced tools and technologies."
Placing explosives and explosive components inside humans to hide bombs and evade security measures is not a new idea. But there is new intelligence pointing to a fresh interest in using this tactic, a U.S. security official told the AP. The official spoke on condition of anonymity to discuss sensitive security information.
When the U.S. government receives information suggesting terror tactics that could threaten commercial aviation, the TSA alerts companies domestically and abroad. Last December, the U.S. received intelligence that al-Qaida's Yemen branch was considering hiding explosives inside insulated beverage containers to carry them on airplanes. That warning was shared with domestic and foreign airlines so that security could be on the lookout, even though there was no specific plot.
Airport security has increased markedly since the Sept. 11, 2001, terror attacks. But terrorists remain interested in attacking aviation and continue to adapt to the new security measures by trying to develop ways to circumvent them.
Original article here.
We welcome your comments, but please comply with our
Comment Rules.
You must be registered and logged in to leave a comment. Comments will display your Username and location.
Log In »
Notable Quotables

"Mr. Netanyahu is one of the most media-savvy politicians on the planet. On Friday he appeared live via video link on 'Real Time with Bill Maher,' taking the host's alternately sardonic and serious line of questioning with gazelle-like alacrity."

~  Anthony Grant, jourrnalist who has written for many major newspapers and worked in television at Paris and Tel Aviv, interviewing former PM Benjamin Netanyahu on Monday, at the outset of Mr. Netanyahu's new book (more here).