Archives

AND MORE...


A Culture Of Savagery
_____________________


The Dimwit Contingency Chimes In
_____________________


Welcome To HorrorLand
_____________________


It's Not You, Islam, It's Us
_____________________


Barricading Google
_____________________
April 2, 2013
Any Excuse To Destroy
Remember that so-called anti-Islamic video "The Innocence of Muslims"? Ya know, the one that supposedly sparked riots throughout the Muslim world, not to mention attacks in Benghazi and murder of 4 Americans, including Ambassador Chris Stevens?
Yes, it happened almost 7 months ago, and yes, the Obama administration has yet to release all the information regarding said debacle, but why should that stop Islamists from using it as an excuse to go wild today, right?
And why should Hamas miss an opportunity to partake in the festivities? After all, their professional victimhood entitles them to wreak havoc and destruction under any excuse, be it 7-months-old or thousands of years old.
Accordingly, behold the latest and greatest (see below) from the freely-elected terrorist organization which rules the Gaza Strip. Such an innovative bunch, don't you think?
Jerusalem Post | April 2, 2013
Islamic Hackers Attack American Express Website
Cyber attackers linking themselves to Hamas knocked website offline for a few hours using DDoS attack.
By Yaakov Lappin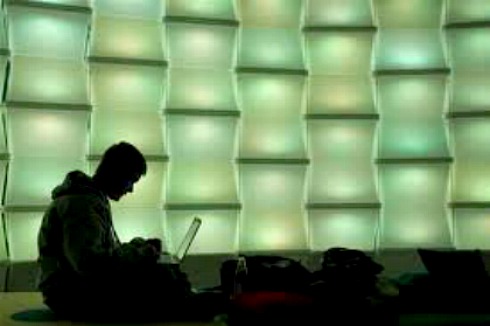 Photo: REUTERS/Thomas Peter
Internet hackers using the name of Hamas's armed wing, Izz ad-Din al-Qassam, launched a distributed denial of service (DDoS) attack on the website of American Express last week, the Infosecurity website reported.
The attack managed to knock the website offline for a few hours, the report said, adding that the hackers had cited the anti-Islamic video The Innocence of Muslims as their motivation.
In DDoS attacks, many computers infected by a Trojan horse are directed to visit internet sites selected by the attacker as a target. If enough requests are directed at a server, it will crash temporarily.
According to Infosecurity, the hacking group "has long been tied to Iran by the US officials," adding that the hackers themselves have vowed to continue cyber attacks until the film is removed from YouTube.
The hackers reportedly issued warning previously to target American banks.
A network security expert from the Arbor Networks' company, Dan Holden, was cited by the technology website Ars Technica as saying that that the Izz ad-Din al-Qassam group "has to be funded at some level," even if the hackers are not directly working for a government.
The Innocence of Muslims sparked violent protests in Muslim countries after it was translated into Arabic in September 2012, months after it was first uploaded to YouTube.
It has since been blocked in Egypt, Indonesia, Saudi Arabia, and other Muslim states.
Original article here.
We welcome your comments, but please comply with our
Comment Rules.
You must be registered and logged in to leave a comment. Comments will display your Username and location.
Log In »
Notable Quotables

"I'm not a big Trump supporter. The committee should look at the facts and judge him on the facts – not on the way he behaves sometimes. The people who have received the Peace Prize in recent years have done much less than Donald Trump. For example, Barack Obama did nothing."

~ Christian Tybring-Gjedde, a member of the Norwegian Parliament, after nominating President Trump for the 2021 Nobel Peace Prize (more here).