February 8, 2009
An "Honor To Support Hamas"
"In Iran, we don't have the same sensitivities," said Iran's parliamentary speaker, Ali Larijani, while defending the Holocaust denial statements of President Mahmoud Ahmadinejad. "For us it is an honor to support Hamas," Larijani added (see below).
Where did Larijani make those comments? At the international Security Conference in Munich (Neville Chamberlain's old haunt).
And what was the U.S.'s reaction to Larijani's comments? None.


The Jerusalem Post | February 7, 2009
'For us, it's an honor to support Hamas'
By Benjamin Weinthal, JPost Correspondent in Berlin, and AP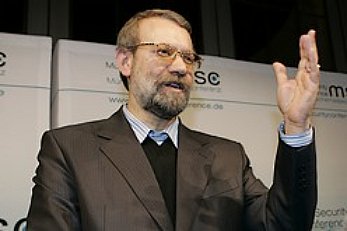 Ali Larijani, member of the Supreme National Security Council of
Iran, faces the media after his speech at the Munich Conference
on Security Policy. Photo: AP
Iran's parliamentary speaker Ali Larijani defended the Holocaust denial statements of President Mahmoud Ahmadinejad and stressed Teheran's support for Hamas at the annual Munich Conference on Security Policy on Friday.
"In Iran, we don't have the same sensitivities," countered Larijani, who formerly served as Iran's chief nuclear negotiator.
Larijani's brother, Mohammad Javad Ardashir Larijani, himself a former politician, denied the Holocaust at a transatlantic security conference organized by German Foreign Minister Frank-Walter Steinmeier in Berlin last June.
The lack of an immediate public condemnation from the German Foreign Ministry last summer prompted outrage from Jewish organizations abroad and the Central Council of Jews in Germany.
While Holocaust denial is a criminal offense in Germany, the public prosecutor did not charge Mohammad Larijani with inciting hate.
In Munich, according to a Spiegel Online report, Ali Larijani slammed Israel and complained that the international community was applying "double standards" to Iran while countries such as Pakistan and India had tested atomic weapons without facing sanctions.
Lellouche said he had not heard that the Indian president had threatened "to wipe a sovereign nation off the map."
Lellouche added that Larijani's "rhetoric is not very encouraging when it concerns world peace."
Spiegel Online reported that Eckart von Klaeden, foreign policy spokesman of the German Christian Democratic Union party, blasted Larijani for Iran supporting terrorism.
"You know, more than 8,000 rockets have been fired from the Gaza Strip at Israel," and the Iranian president supplies Hamas and Hizbullah with rockets, he said.
Iran's support for its proxies Hamas and Hizbullah had turned the Islamic republic "into a danger for the region," Von Klaeden added.
"For us it is an honor to support Hamas," Larijani replied.
The parliamentary speaker also sternly dismissed decades of US policies targeting Teheran and declared that the new American administration had to admit past wrongs before it could hope for reconciliation.
"The old carrot and stick policy must be discarded," he said, alluding to Western threats and offers of rewards to coax Iran to give up nuclear activities the West views as threatening. "This is a golden opportunity for the United States."
Larijani condemned Washington's backing for Iraq in its 1980s war against Iran and its support of Israel. Larijani said those policies and others in the region failed in their declared purpose of rooting out terrorism and finding hidden weapons of mass destruction.
On the nuclear standoff, he said, Washington "has tried to sabotage any diplomatic solution."
Without US acknowledgment of failure and wrongdoing, "do you expect this pain to go away?" he asked.
Obama has said the US is ready for direct talks with Iran in efforts to overcome concerns that its nuclear program could be used to develop atomic weapons. Teheran denies that and insists its aims are peaceful. The former US administration refused one-on-one negotiations with Teheran on the issue unless it made significant nuclear concessions beforehand.
There was no immediate US reaction to Larijani's comments.
Senior Iranian officials have cautiously welcomed the new US proposal of direct talks. But on Friday, Larijani, his country's former chief nuclear negotiator, delivered a blistering condemnation of what he described as failed and evil US actions against his country and in the region. He declared the US had to own up to the past before it could hope for a better future with Iran.
"In the past years, the US has burned many bridges but the new White House can rebuild them" if it "accepts its mistakes and changes its policies," Larijani said.
Outside the conference, British Foreign Secretary David Miliband criticized Teheran's decision to launch a satellite this week, while Germany's foreign minister urged Iran to engage in direct diplomacy with the US.
Iran launched a satellite Monday, touching off concerns among experts in Europe, the US and Israel about the potential for links between Iran's satellite program and its work with missiles and nuclear technology.
Speaking outside the gathering of a dozen world leaders and more than 50 top ministers, Miliband said that even if the launch was for civilian purposes as Iran claims, it sent the wrong signal, considering Obama's offer to talk directly to defuse the nuclear crisis.
"Given that President Obama said that he was stretching out a hand if Iran would unclench its fist, I don't think that this was an unclenching of a fist," Miliband told AP Television News.
Larijani dismissed Miliband's concerns about the launch. "What possible causes for concern can that satellite be?" he asked. "This satellite is not a weapon of mass destruction."
Original article here.
We welcome your comments, but please comply with our
Comment Rules.
You must be registered and logged in to leave a comment. Comments will display your Username and location.
Log In »
Notable Quotables

"Mr. Netanyahu is one of the most media-savvy politicians on the planet. On Friday he appeared live via video link on 'Real Time with Bill Maher,' taking the host's alternately sardonic and serious line of questioning with gazelle-like alacrity."

~  Anthony Grant, jourrnalist who has written for many major newspapers and worked in television at Paris and Tel Aviv, interviewing former PM Benjamin Netanyahu on Monday, at the outset of Mr. Netanyahu's new book (more here).