Archives

AND MORE...


The Facilitators
_____________________


King Of The Islamists
_____________________


New Embassy!
_____________________


Strangle The Funding
_____________________
September 10, 2015
Lap of Luxury
Palestinians in Gaza have such a 'tough' life that their leaders, Hamas, held a press conference event this week calling for armed resistance "in all its forms" against Israel.
Where did they hold the event? They held it in the lap of luxury, at the Four Seasons hotel in Doha, Qatar
And who made the call for armed resistance? Senior Hamas leader, "brother" Khaled Meshaal, who is said to be worth personally $2.6 BILLION, and like Hamas is designated by the U.S. as a terrorist.
Meanwhile, U.S. ally Qatar continues as banker to terrorists worldwide, pledging at least $400 million in recent years to support Hamas. It also continues providing shelter/safe haven for top officials such as Meshaal, not to mention terrorist groups like ISIS.
So perhaps it's time for Congress to update U.S. law, such that "U.S. allies hosting operatives of terrorist groups are subject to new penalties."
Although we would also suggest the U.S. loosen its close ties with Facilitators like Qatar and stop sending it billions of dollars and arms in order "to keep it as a strategic regional ally."
Any wonder that real allies like Israel need arms assistance from the U.S.? Maybe if the U.S. stopped funding and arming its allies' enemies (not to mention its own enemies), it wouldn't need to render so much assistance to the good guys!
Washington Free Beacon  |  September 10, 2015
Hamas Chief Holds Press Conference At Four Seasons Hotel
Potential violation of U.S. terrorism laws
By Adam Kredo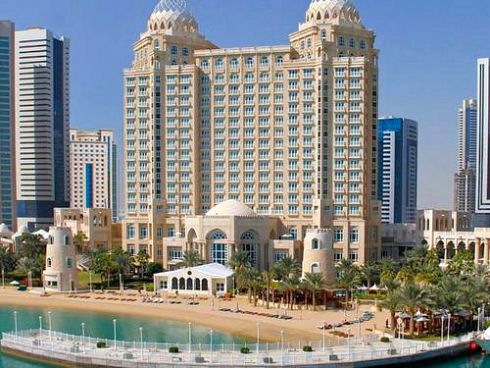 The Four Seasons hotel chain has come under fire for hosting a press conference this week in Doha, Qatar, by a top Hamas official who called for armed resistance "in all its forms" against Israel, according to a copy of the invitation for the event and video of the press conference.
Khaled Meshaal, a senior Hamas leader who is designated by the United States as a terrorist, rallied against Israel during remarks at the Four Seasons in Doha, raising questions about whether the prominent hotel chain could be in violation of U.S. laws barring material support to terrorist groups.
Izat Arashaq, a Senior Hamas official, publicized the event earlier this week on Twitter, sending out an invitation to the event in Arabic.
The tweet included "an invitation to attend and to cover the press conference of the brother Khaled Meshaal , vice president of the politburo for the Islamic Resistance movement (Hamas)," according to an independent translation.
The notice touts the event as being held in a ballroom at "the Four Seasons Hotel, Doha."
The Four Seasons hotel chain is jointly owned by Kingdom Holding Company, which is headed by Prince Alwaleed Bin Talal of the Saudi royal family, and the Cascade Investment Firm, which is owned by Bill Gates.
Meshaal—who spoke in front of the image of a gunman during the event—urged the Palestinians to take up  "resistance in all its forms" without "limits or restriction," according to a video recording.
Meshaal, who resides in Qatar, has been reported to frequent the Four Seasons in Doha. He also has been provided shelter by the Qatari government, which is one of Hamas's top backers.
Meshaal's public appearance at the Four Seasons has led to questions about whether the hotel chain is in violation of laws prohibiting material support to any U.S.-designated terrorist group.
"First of all it is remarkable to me that the U.S. continues to consider Qatar an ally when Hamas operates openly on Qatari soil," said Jonathan Schanzer, a former terrorism finance analyst at the Department of the Treasury.
"The announcement of this press conference was brazen. The spokesman of Hamas seemed to have really no qualms about sharing the location of this press conference of a terrorist organization on social media," said Schanzer, the vice president of research at the Foundation for Defense of Democracies.
"He was blasting it far and wide," Schanzer said. "We're talking about a major hotel chain that is now providing material support to a terrorist organization, according to the letter of American law."
When asked via email to comment on Meshaal's appearance at the hotel, a spokesperson for the Four Seasons in Doha said that "we are unable to respond to any enquiries about people who may or may not be staying at the hotel."
The spokesperson did not respond when asked whether the hotel endorsed the public Hamas press conference.
An email requesting comment from the Kingdom Holding Company also was not returned. The Cascade Investment Firm did not respond to a request for comment on Meshaal's use of the hotel by press time.
Qatar has repeatedly come under fire from U.S. lawmakers and others for its longtime backing of Hamas.
Qatar has pledged at least $400 million to support Hamas in recent years and continues to shelter top officials such as Meshaal.
At the same time, Qatar enjoys close ties with the United States and has benefited from billions of dollars in arms deals.
"Qatar plays host to leaders of a U.S.-designated Foreign Terrorist Organization, but under current U.S. law it is not a designated State Sponsor of Terrorism," said David Weinberg, a senior fellow at the Foundation for Defense of Democracies who researches Gulf State monarchs. "Given that Israeli security forces have identified three separate Hamas officials based out of Qatar by name as directing terror cells in the West Bank, U.S. policy needs to keep pace with worrying realities overseas."
"Perhaps the SST architecture needs to be updated by Congress so that U.S. allies hosting operatives of terrorist groups are subject to new penalties," he said.
Original article here.
We welcome your comments, but please comply with our
Comment Rules.
You must be registered and logged in to leave a comment. Comments will display your Username and location.
Log In »
Notable Quotables

"As I have said many times, the Iran deal was one of the worst and most one-sided transactions the United States has ever entered into."

~ President Trump, during a speech at the White House on Friday, where he announced he would not recertify the Iran deal (more here).